Welcome to The Pixel Project's "30 For 30″ Father's Day Campaign 2015! In honour of Father's Day, we created this campaign:
To acknowledge the vital role Dads play in families, cultures and communities worldwide.
To showcase good men from different walks of life who are fabulous positive non-violent male role models.
Through this campaign, we will be publishing a short interview with a different Dad on each day of the month of June.
This campaign is also part of a programme of initiatives held throughout 2015 in support of the Celebrity Male Role Model Pixel Reveal campaign that is in benefit of the National Coalition Against Domestic Violence and The Pixel Project. Donate at just US$1 per pixel to reveal the mystery Celebrity Male Role Models and help raise US$1 million for the cause while raising awareness about the important role men and boys play in ending violence against women in their communities worldwide. Donations begin at just US$10 and you can donate via the Pixel Reveal website here or the Pixel Reveal Razoo donation page here.
Our first "30 For 30″ 2015 Dad is Munish Jauhar from India.
__________________________________________________________________________________________
The Dad Bio
Munish Jauhar is the CEO/Founder of GrayCell Technologies Exports which he founded in 2004. Today, GrayCell has grown exponentially with a list of Global 2000 clients. Graycell is also an award-winning champion of Corporate Social Responsibility (CSR), providing strong support to initiatives like holding blood donation camps, tree plantation drives, charities for orphans and women in need. An avid collector of both modern and contemporary Indian art, Munish's other interests include reading, fish keeping, music and birding. He is married to Gurpreet and they have two daughters Bisr and Hunar.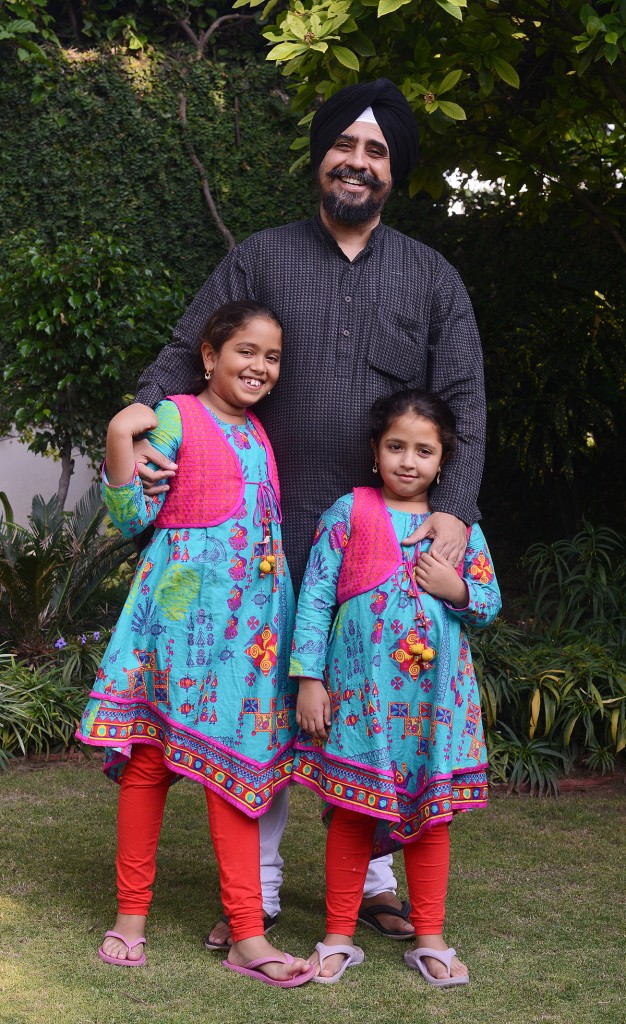 1. What is the best thing about being a dad?
That is a very tough question to answer because I love everything about being a dad, be it watching my girls smile, hearing their unconditional laughter, holding their hands, being a child again with them, or getting their special drawings every now and then. But if I had to pick one thing it is that fatherhood is unconditional love, it's not all about 'me' but it is about 'we' a family.
2. A dad is usually the first male role model in a person's life and fathers do have a significant impact on their sons' attitude towards women and girls. How has your father influenced the way you see and treat women and girls?
Yes, a father does have a very significant impact on their son's attitude towards girls and women, but at the same time I feel the mother too has a very strong impact. My parents have had a very positive influence on me in this context because I was never raised to think that men and women are not equal and nor I have ever seen any domestic violence at home. Learning has to begin at home and it is the parents who have to lead by example.
3. Communities and activists worldwide are starting to recognise that violence against women is not a "women's issue" but a human rights issue and that men play a role in stopping the violence. How do you think fathers and other male role models can help get young men and boys to take an interest in and step up to help prevent and stop violence against women?
This is a big issue which impacts all of us either directly or indirectly. Positive male role models need to reach out to other males (young and old) who they know of in their immediate circles and educate them about this problem and bring about a change in their patriarchal mindsets. Young boys, while growing up, always look up to their fathers and father figures such teachers, mentors, uncles, older brothers etc. And it is precisely these role models who have to lead by example. We also have to get them to imbibe a 'Pay It Forward' attitude in this context.