Welcome to The Pixel Project's "30 For 30″ Father's Day Campaign 2013! In honour of Father's Day, we created this campaign:
To acknowledge the vital role Dads play in families, cultures and communities worldwide.
To showcase good men from different walks of life who are fabulous positive non-violent male role models.
Through this campaign, we will be publishing a short interview with a different Dad on each day of the month of June.
This campaign is also part of a programme of initiatives held throughout 2014 in support of the Celebrity Male Role Model Pixel Reveal campaign that is in benefit of the National Coalition Against Domestic Violence and The Pixel Project. Donate at just US$1 per pixel to reveal the mystery Celebrity Male Role Models and help raise US$1 million for the cause while raising awareness about the important role men and boys play in ending violence against women in their communities worldwide. Donations begin at just US$10 and you can donate via the Pixel Reveal website here or the Pixel Reveal Razoo donation page here.
Our fourteenth "30 For 30″ 2014 Dad is Martin Copeland from the USA.
__________________________________________________________________________________________
The Dad Bio
Martin is the husband to Siobhan and father to Jaxon, who is four months old. His other roles fall behind those. He has been told that he has been a dad for years because he works and volunteers in youth work as a teacher, college access advisor, youth leader, and mentor for young men in the DMV area (DC, Maryland, Virginia) for over 10 years. He waves his nerd flag proudly and is the type of comic book fan who scoffs at the pseudo fans who only know about X-Men and The Avengers because of the movies.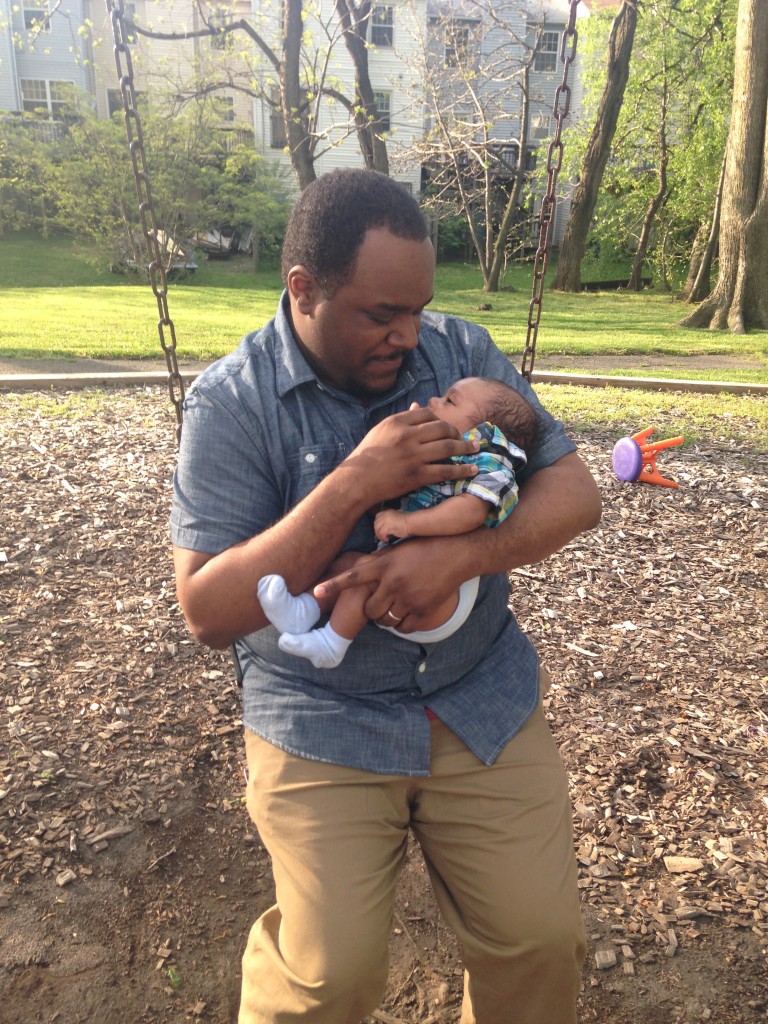 1. What is the best thing about being a dad?
The best thing about being a dad so far is enjoying the day-to-day growth and changes of my son. It feels like he does something different every day. I get so excited when he smiles, laughs, rolls onto his side, or responds to people.
2. A dad is usually the first male role model in a person's life and fathers do have a significant impact on their sons' attitude towards women and girls. How has your father influenced the way you see and treat women and girls?
Growing up, my father was very clear about how I was to conduct myself with women as a man. My father is a gentleman and I learned to emulate him at an early age. I learned social etiquette towards women from him. My father demanded that I respect women, starting with my mother and twin sister. This was non-negotiable in my house.
3. Communities and activists worldwide are starting to recognise that violence against women is not a "women's issue" but a human rights issue and that men play a role in stopping the violence. How do you think fathers and other male role models can help get young men and boys to take an interest in and step up to help prevent and stop violence against women?
Fathers and other male role models must actually model appropriate behaviour for the young men in their lives. Young men have to see examples of men who not only respect women but acknowledge the injustices against women in this world. Boys will not grow up as advocates unless they see that their fathers don't distance themselves from women's issues. My son, Jaxon, will know that the more subtle harmful and offensive microaggressions are just as wrong and unacceptable as hitting a woman.