Welcome to The Pixel Project's "30 For 30″ Father's Day Campaign 2013! In honour of Father's Day, we created this campaign:
To acknowledge the vital role Dads play in families, cultures and communities worldwide.
To showcase good men from different walks of life who are fabulous positive non-violent male role models.
Through this campaign, we will be publishing a short interview with a different Dad on each day of the month of June.
This campaign is also part of a programme of initiatives held throughout 2014 in support of the Celebrity Male Role Model Pixel Reveal campaign that is in benefit of the National Coalition Against Domestic Violence and The Pixel Project. Donate at just US$1 per pixel to reveal the mystery Celebrity Male Role Models and help raise US$1 million for the cause while raising awareness about the important role men and boys play in ending violence against women in their communities worldwide. Donations begin at just US$10 and you can donate via the Pixel Reveal website here or the Pixel Reveal Razoo donation page here.
Our sixth "30 For 30″ 2014 Dad is Colin D'Silva from India and Singapore.
__________________________________________________________________________________________
The Dad Bio
Colin has a doctorate in Biochemistry/Microbiology and has been working in the cosmetics industry for over 16 years. He worked in retail beauty for most of his career, and is now working in the prestige/luxury beauty industry. In his spare time, Colin loves to do day trips with his wife and daughter. He loves travelling and cooking. He also plays tennis and works out at the gym to stay fit and healthy.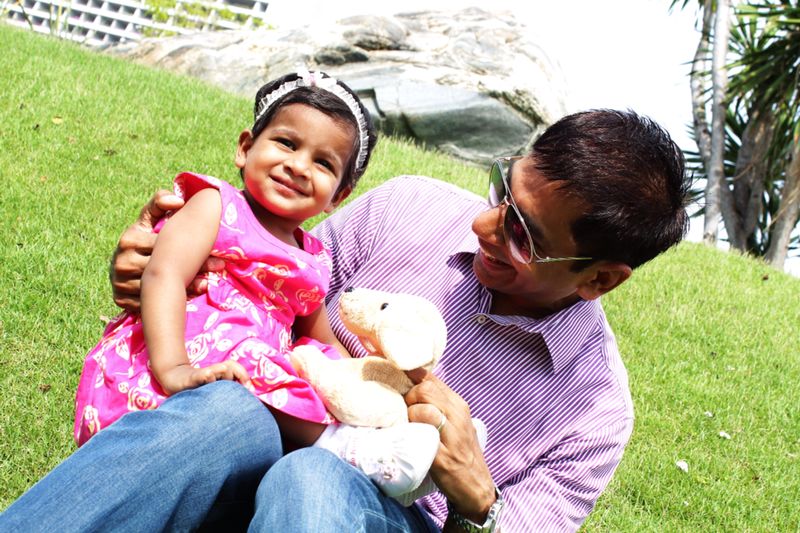 1. What is the best thing about being a dad?
I do not have any sons, but one of the best things about being a father to a daughter is how you transform from an ordinary man to being a hero. My daughter's eyes light up for me, and that is a joy I can't explain. I thoroughly enjoy the activities we do together and the special bond we share. I'm a very 'hands-on' dad and I delight in the fact that there is no aspect of my daughter's care that I cannot independently handle.
2. A dad is usually the first male role model in a person's life and fathers do have a significant impact on their sons' attitude towards women and girls. How has your father influenced the way you see and treat women and girls?
I always saw my dad being respectful and more importantly being equal to my mum and in his treatment of my sisters and brothers. He never shied away from domestic work, and if anything was one of the finest cooks I knew. I have learned to be meticulous, keep a good home, develop a love for cooking and enjoy home life from him. In a traditional patriarchal society like India where I grew up, this in itself is a big step forward. Today, my immediate family life includes my wife, daughter and my mum who is my dependent although she doesn't live with me.
3. Communities and activists worldwide are starting to recognise that violence against women is not a "women's issue" but a human rights issue and that men play a role in stopping the violence. How do you think fathers and other male role models can help get young men and boys to take an interest in and step up to help prevent and stop violence against women?
Violence against women and children is certainly a human rights issue, and one that is driven by power. It is most important that boys see their fathers as men who do not have double standards. Men need to understand and accept that manhood is not about being macho. Patience, kindness, home life balance, and equality in the home are part of what the father needs to instill in the family and live out himself. Fathers and male role models must be vocal about condemning violence against women. They must encourage all boys & men to do the same and not turn a blind eye to this issue.