Welcome to The Pixel Project's "30 For 30″ Father's Day Campaign 2013! In honour of Father's Day, we created this campaign:
To acknowledge the vital role Dads play in families, cultures and communities worldwide.
To showcase good men from different walks of life who are fabulous positive non-violent male role models.
Through this campaign, we will be publishing a short interview with a different Dad on each day of the month of June.
Our twentieth "30 For 30″ 2013 Dad is Jeff Van Pelt from Ecuador and the USA.
————————————————————————————-
The Dad Bio
Our twentieth Dad is Jeff Van Pelt. Jeff is originally from Midlothian, Virginia, USA and now lives in Cuenca, Ecuador. He and his wife decided to retire early and pursue new adventures in Ecuador once their two children, Neil and Hannah, were grown, and while they are still healthy and "young." They sold their house, car and truck, and all of their belongings except what would fit into 4 suitcases and 2 carry-ons. Jeff loves the freedom of not owning a lot of stuff – "we can easily pick up and move again within Ecuador, or even to another country, if we choose."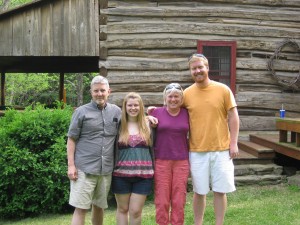 1. What is the best thing about being a dad?
The best thing about being a Dad is what it creates in you. It makes you want to be your best, to overcome selfishness, and to focus on someone else. It is also very satisfying to see a person that you "created" (together with the other parent) blossom and flourish into an admirable human being. And you know you are never alone in the world because there is at least one person who cares deeply about what happens to you.
2. A dad is usually the first male role model in a person's life and fathers do have a significant impact on their sons' attitude towards women and girls. How has your father influenced the way you see and treat women and girls?
My father was very respectful toward women and girls, and all people for that matter. He and my mother were ardent advocates of women's rights at least since the 1970s. He said that having a daughter should make any man care about women's equality of rights. I believe he influenced me to be a believer in women's rights and to raise both of my children the same, without respect to gender.
3. Communities and activists worldwide are starting to recognise that violence against women is not a "women's issue" but a human rights issue and that men play a role in stopping the violence. How do you think fathers and other male role models can help get young men and boys to take an interest in and step up to help prevent and stop violence against women?
First, men (and women too) have to stop giving their sons the message that they are somehow better or more valued than girls, because such a message imparts to boys feelings of entitlement in relation to women. They feel they deserve obedience, passiveness, acquiescence – and when they don't get it, they feel rage, which often leads to violence. Raising your children to respect each other and to view girls and women as equals helps instill that women are to be as valued in our society as males.
______________________________________________________________________________________
Want to honour your Dad in a different way this Father's Day without breaking the bank?
We offer two (2) easy and fabulous options:
Option A: Make a Small Donation
Help The Pixel Project keep our anti-Violence Against Women campaigns and projects sustainable by making a small donation on behalf of your dad to us.
Click here to learn how your donation will be used and to donate:https://www.thepixelproject.net/getting-involved-an-introduction/donate-to-the-pixel-project/
Option B: Dedicate a Song to Him
For just $0.99, you can download our first Music For Pixels song – a cover of 'The Rose' by AHMIR, YouTube's #1 R&B group and upload it onto your Dad's computer's iTunes or digital music player. Not sure about it? Listen before you buy: