Welcome to The Pixel Project's "30 For 30″ Father's Day Campaign 2013! In honour of Father's Day, we created this campaign:
To acknowledge the vital role Dads play in families, cultures and communities worldwide.
To showcase good men from different walks of life who are fabulous positive non-violent male role models.
Through this campaign, we will be publishing a short interview with a different Dad on each day of the month of June.
Our twenty-first "30 For 30″ 2013 Dad is William Odongo from Kenya and the USA.
————————————————————————————-
The Dad Bio
William Odongo was born and raised in Siaya, Kenya and the 7th of 12 children. He was raised on the land and learned very early on how to take care of himself. After graduating from Egerton University with a Bachelor's in Economics, William travelled to the US to pursue a Master's degree. Here, he met and married his wife, travelled around the United States and integrated into another culture and family. William completed his Masters in Business Administration from the University of Maryland and now works at Sodexo as a Financial Analyst. William feels his most important role is being a father to an amazing little boy, " My son is my greatest achievement."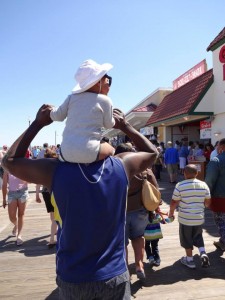 1. What is the best thing about being a dad?
There are so many good things about being a dad it's so hard to pinpoint my favourite. But one of the best things is being responsible for a life; a life that gives you happiness every time you walk in the door, running to you with unconditional love and joy showing on their face. One of my favorite moments it every morning when I wake up to the sounds of "daddy!" Being a father is recognising that you are responsible for a life that unquestionably depends on you. The best thing is to be there for this child and see him grow up and change each and every day.
2. A dad is usually the first male role model in a person's life and fathers do have a significant impact on their sons' attitude towards women and girls. How has your father influenced the way you see and treat women and girls?
My father had an equal number of boys and girls but every single one of us was given equal opportunity to pursue our dreams. Even with the miniscule resources he was able to bring home, he never choose who was able to access them. He made sure each one of us was supported in pursuing a future. And for that I feel so grateful to him. And what came out of that was that we all grew up respecting each other in our family, which is very different than the cultural norms in Kenya. But in my family, we were all equal. This has had a lifelong impact on me, I understand the importance of educating girls and continue to put my siblings and nieces through school as well as send money to help them start businesses so they can support themselves.
3. Communities and activists worldwide are starting to recognise that violence against women is not a "women's issue" but a human rights issue and that men play a role in stopping the violence. How do you think fathers and other male role models can help get young men and boys to take an interest in and step up to help prevent and stop violence against women?
As a father, I think it is critical to pay attention to our influence from a very early age and take leadership in guiding children to understand and recognize equality in every aspect of life. Equality is not just about gender equality but also honouring abilities, sexual orientation, race, religion, income and access and every other defining characteristic. Equality is recognizing that humanity means humanity irrespective of your identifiers. It is like having a house with a strong foundation, an understanding of what lays at the base of a happy home.
I was not raised with this understanding, I was not taught this way but it is who I am now and I know it's right. So as a father, I want to be able to show my son that equality transcends any orientation from his earliest understandings. I think the earlier he understands that, the better prepared he will be to recognise and confront injustices in a way that changes things for the better.
______________________________________________________________________________________
Want to honour your Dad in a different way this Father's Day without breaking the bank?
We offer two (2) easy and fabulous options:
Option A: Make a Small Donation
Help The Pixel Project keep our anti-Violence Against Women campaigns and projects sustainable by making a small donation on behalf of your dad to us.
Click here to learn how your donation will be used and to donate:https://www.thepixelproject.net/getting-involved-an-introduction/donate-to-the-pixel-project/
Option B: Dedicate a Song to Him
For just $0.99, you can download our first Music For Pixels song – a cover of 'The Rose' by AHMIR, YouTube's #1 R&B group and upload it onto your Dad's computer's iTunes or digital music player. Not sure about it? Listen before you buy: