Welcome to The Pixel Project's "30 For 30″ Father's Day Campaign 2013! In honour of Father's Day, we created this campaign:
To acknowledge the vital role Dads play in families, cultures and communities worldwide.
To showcase good men from different walks of life who are fabulous positive non-violent male role models.
Through this campaign, we will be publishing a short interview with a different Dad on each day of the month of June.
Our eighteenth "30 For 30″ 2013 Dad is Rehan Ali from the United Kingdom (currently residing in the USA).
————————————————————————————-
The Dad Bio
Our eighteenth Dad is Rehan Ali, who is an imaging scientist at Stanford University where he does research on developing methods to learn more about cancer from medical images. In his spare time, he is an avid Formula 1 fan. He is also a husband, and a dad to a baby boy, Adam, whom he hopes will one day will also be an avid Formula 1 fan. Rehan is originally from the UK and is The Pixel Project's Tech Advisor.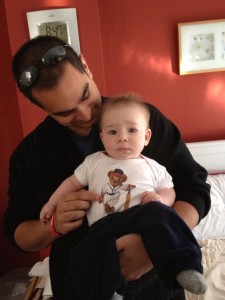 1. What is the best thing about being a dad?
The whole experience of being a dad is a highlight of my life – it's hard to single out any one particular thing that qualifies as being the best, as it's all been amazing so far. I love getting home from a long day at work and seeing his face light up when he sees me and seeing him try to wriggle free from whoever's holding him. I love playing games with him, hearing him laugh, getting him to sleep, and thinking about him when I'm away.
2. A dad is usually the first male role model in a person's life and fathers do have a significant impact on their sons' attitude towards women and girls. How has your father influenced the way you see and treat women and girls?
I grew up watching my dad help my mum in numerous ways, and I'm certain that they had an impact on me. I saw my dad work hard as the breadwinner to provide for my mum, help her out with household chores like gardening during the weekend, and help her with looking after my sister and I. When we went out, he would give my mum enough money to spend on whatever she wanted, and I later ended up trying to replicate his behaviour when I first got married. The only difference is that my wife and I were on a tight student budget, and when I withdrew a twenty pound note from the local ATM to give to her as spending money, suffice it to say that my wife was not as impressed with me as my mum was with my dad…
3. Communities and activists worldwide are starting to recognise that violence against women is not a "women's issue" but a human rights issue and that men play a role in stopping the violence. How do you think fathers and other male role models can help get young men and boys to take an interest in and step up to help prevent and stop violence against women?
I hope to instill in my son a sense of awareness that men and women are equal, by showing him that there are no divisions in the things that his mother and father do. My wife and I both have careers, both look after our son, both do chores around the house, and discuss all major decisions together. True gender equality should start in the home, and I hope that by observing our example, our son will grow up fully believing this to be the norm.
______________________________________________________________________________________
Want to honour your Dad in a different way this Father's Day without breaking the bank?
We offer two (2) easy and fabulous options:
Option A: Make a Small Donation
Help The Pixel Project keep our anti-Violence Against Women campaigns and projects sustainable by making a small donation on behalf of your dad to us.
Click here to learn how your donation will be used and to donate:https://www.thepixelproject.net/getting-involved-an-introduction/donate-to-the-pixel-project/
Option B: Dedicate a Song to Him
For just $0.99, you can download our first Music For Pixels song – a cover of 'The Rose' by AHMIR, YouTube's #1 R&B group and upload it onto your Dad's computer's iTunes or digital music player. Not sure about it? Listen before you buy: