Welcome to The Pixel Project's "30 For 30″ Father's Day Campaign 2013! In honour of Father's Day, we created this campaign:
To acknowledge the vital role Dads play in families, cultures and communities worldwide.
To showcase good men from different walks of life who are fabulous positive non-violent male role models.
Through this campaign, we will be publishing a short interview with a different Dad on each day of the month of June.
Our seventeenth "30 For 30″ 2013 Dad is Bob Bond from the United Kingdom.
————————————————————————————-
The Dad Bio
Our seventeenth Dad is Bob Bond, the owner of Pathway Software, a company that offers software systems for healthcare professionals. When Bob is not innovating software and collaborating with healthcare professionals, he is an avid snowboarder, a coffee-addict, a Krispy Kreme fan and a lover of all things Google (and Apple). He is Dad to four adorable children and husband to Kim, his soul mate.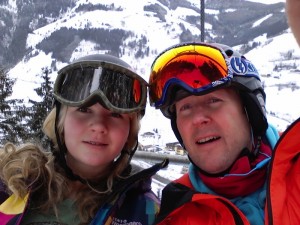 1. What is the best thing about being a dad?
There is no one best thing about being a Dad. I enjoy many things about being a Dad: raising them, showing them the world, and providing a safe and happy home for them. However, If I had to distil it down to just one simple element, the best things about being a Dad is when I see them content and happy.
2. A dad is usually the first male role model in a person's life and fathers do have a significant impact on their sons' attitude towards women and girls. How has your father influenced the way you see and treat women and girls?
My father did not really influence my attitudes much towards girls or women. I went to an all-boys Catholic school and to a large degree lived a life separate from girls until I went to University. In sort, there was no positive or negative influence I guess I just formulated my own attitude as I grew up and matured.
3. Communities and activists worldwide are starting to recognise that violence against women is not a "women's issue" but a human rights issue and that men play a role in stopping the violence. How do you think fathers and other male role models can help get young men and boys to take an interest in and step up to help prevent and stop violence against women?
As a father to three girls and one boy I think the key and the starting point is balance and respect. Personally, I abhor violence towards woman and I think fathers should inspire their children to be respectful to all colours, creeds and sexes. I don't feel the need to specifically differentiate between how my son should treat a woman or man. We have brought him up to treat others as he would expect to be treated which means he must accept boundaries, respect other people's opinions and beliefs, never engage in violence and to treat everyone with care and consideration.
______________________________________________________________________________________
Want to honour your Dad in a different way this Father's Day without breaking the bank?
We offer two (2) easy and fabulous options:
Option A: Make a Small Donation
Help The Pixel Project keep our anti-Violence Against Women campaigns and projects sustainable by making a small donation on behalf of your dad to us.
Click here to learn how your donation will be used and to donate:https://www.thepixelproject.net/getting-involved-an-introduction/donate-to-the-pixel-project/
Option B: Dedicate a Song to Him
For just $0.99, you can download our first Music For Pixels song – a cover of 'The Rose' by AHMIR, YouTube's #1 R&B group and upload it onto your Dad's computer's iTunes or digital music player. Not sure about it? Listen before you buy: