Welcome to The Pixel Project's "30 For 30″ Father's Day Campaign 2013! In honour of Father's Day, we created this campaign:
To acknowledge the vital role Dads play in families, cultures and communities worldwide.
To showcase good men from different walks of life who are fabulous positive non-violent male role models.
Through this campaign, we will be publishing a short interview with a different Dad on each day of the month of June.
Our sixteenth "30 For 30″ 2013 Dad is Francis Tan from Malaysia.
__________________________________________________________________________________________
The Dad Bio
Frances Tan has wanted to be an engineer since he was young. He became interested in cars as a teenager. He completed his degree in Automotive Engineering. He is still interested in cars today. He says: "I happily share my life with my wife and our cheeky 4 year old girl. I have also taken mountain biking as a hobby and also to get some exercise to a healthier life. I'm in my 40's now, so being a healthy father is vital. Besides, I will probably need all the strength and stamina to chase all the boys away when she gets to her teens!" Frances is married to Asther Lau, one of The Pixel Project's "Portraits For Pixels" photographers. Learn more about Asther's work here.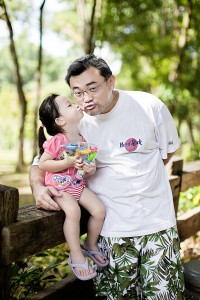 1. What is the best thing about being a dad?
The unconditional love that I get from my girl regardless whether I am angry or sad at her. And knowing that I am forever her first love and she being my last (the first goes to the woman who brought her into my world – love you first & forever!).
2. A dad is usually the first male role model in a person's life and fathers do have a significant impact on their sons' attitude towards women and girls. How has your father influenced the way you see and treat women and girls?
I was an inquisitive teenager, wanting to know how to get girls. I guess it was unconsciously that I took notice of my girlfriends' dads and how they treated their daughters. At that time, it was for another reason (censored here!) but it did make me see that women & girls are no different from us men/boys. One of the things I learnt is that women/girls want to be treated as an equal and to have trust & confidence. In return, they will give the same back 3 times more!
3. Communities and activists worldwide are starting to recognise that violence against women is not a "women's issue" but a human rights issue and that men play a role in stopping the violence. How do you think fathers and other male role models can help get young men and boys to take an interest in and step up to help prevent and stop violence against women?

I believe that we need to teach young men and boys to treat women just the same as you would want to be treated. We need to impart the belief that everyone is the same, that no one is the lessor. We may look different, talk different, and smile different, but inside we are all the same. I believe we also need to teach our young men and boys that hitting someone is never acceptable. I also encourage young men and boys to open their ears and listen to women.
_____________________________________________________________
Want to honour your Dad in a different way this Father's Day without breaking the bank?
We offer two (2) easy and fabulous options:
Option A: Make a Small Donation
Help The Pixel Project keep our anti-Violence Against Women campaigns and projects sustainable by making a small donation on behalf of your dad to us.
Click here to learn how your donation will be used and to donate:https://www.thepixelproject.net/getting-involved-an-introduction/donate-to-the-pixel-project/
Option B: Dedicate a Song to Him
For just $0.99, you can download our first Music For Pixels song – a cover of 'The Rose' by AHMIR, YouTube's #1 R&B group and upload it onto your Dad's computer's iTunes or digital music player. Not sure about it? Listen before you buy: