Welcome to The Pixel Project's "30 For 30″ Father's Day Campaign 2013! In honour of Father's Day, we created this campaign:
To acknowledge the vital role Dads play in families, cultures and communities worldwide.
To showcase good men from different walks of life who are fabulous positive non-violent male role models.
Through this campaign, we will be publishing a short interview with a different Dad on each day of the month of June.
Our third "30 For 30″ 2013 Dad is Ivan Lim from Singapore.
——————————————————————————
The Dad Bio
Ivan Lim is a Singapore-based author and former journalist who is well known for his entertainment and sports columns, and in the past two years has written and published eight books. He is also a professionally trained classical guitarist and is one of a handful of classical guitarists in Singapore who have performed a solo recital. He has also had a stint as manager of the T'ang Quartet, Singapore's pre-eminent classical string ensemble. Ivan is happily married to a fellow writer and the couple have an eight-year-old son. When not parenting, they run Typewriter Books, an independent publishing company: www.typewriter.sg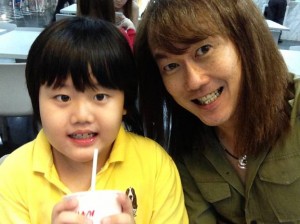 1. What is the best thing about being a dad?
The best part of parenthood is the unmitigated privilege of watching a young person grow and develop, knowing that you are very much a part (and possibly the best or the worst) of that growth and development. Children have this enormous capacity to absorb and repeat all they see, and imparting positive values and seeing these put in action by my young son (he just turned 8) is totally precious to me.
2. A dad is usually the first male role model in a person's life and fathers do have a significant impact on their sons' attitude towards women and girls. How has your father influenced the way you see and treat women and girls?
My dad loved his women – he had only three: His wife (my mother) and two daughters (my sisters). He treasured each of them dearly.
When I was very young, I overheard a conversation he was having with my mum during which he described someone with absolute contempt as a "wife beater". It was the first time I had heard that phrase used and in the context of my very peaceful home and loving family, that concept was alien to me. He told me, very seriously, that a man should never "lay hands on a woman" (his exact words) and it has stuck with me since.
I suppose my tendency to come to the defence of any damsel in distress comes more from his words and attitude than the very many bedtime stories which involved knights in shining armour that my mother read to me as a young child.
3. Communities and activists worldwide are starting to recognise that violence against women is not a "women's issue" but a human rights issue and that men play a role in stopping the violence. How do you think fathers and other male role models can help get young men and boys to take an interest in and step up to help prevent and stop violence against women?
I am fortunate enough to have been brought up in an environment where there was zero-tolerance of violence to women. All homes should have that. All societies across every culture should enforce that, too. In cultures where violence against women is tolerated or even accepted and condoned, fathers and other male role models could apply pressure on their peers to discard such archaic attitudes. Young children should be taught (like I once was years ago) that violence against women no matter how small the degree should be unacceptable in any circumstance.
Perhaps a campaign could run like such: A young boy pleading, "Please don't hurt my mother." It would be a powerful statement against domestic violence. And young children as well as young men would immediately understand the grief and anguish that violence against women causes to know it is wrong.
Women are to be loved and protected, not mistreated or violated. Anyone who believes it is fine to physically abuse a woman is a dangerous animal who should be caged and rehabilitated until he is able to co-exist with the better half of humanity without the slightest tendency whatsoever of any manner of violent behaviour thereafter
————————————————————————
Want to honour your Dad in a different way this Father's Day without breaking the bank?
We offer two (2) easy and fabulous options:
Option A: Make a Small Donation
Help The Pixel Project keep our anti-Violence Against Women campaigns and projects sustainable by making a small donation on behalf of your dad to us.
Click here to learn how your donation will be used and to donate: https://www.thepixelproject.net/getting-involved-an-introduction/donate-to-the-pixel-project/

Option B: Dedicate a Song to Him
For just $0.99, you can download our first Music For Pixels song – a cover of 'The Rose' by AHMIR, YouTube's #1 R&B group and upload it onto your Dad's computer's iTunes or digital music player. Not sure about it? Listen before you buy: