Welcome to The Pixel Project's "30 For 30″ Father's Day Campaign 2013! In honour of Father's Day, we created this campaign:
To acknowledge the vital role Dads play in families, cultures and communities worldwide.
To showcase good men from different walks of life who are fabulous positive non-violent male role models.
Through this campaign, we will be publishing a short interview with a different Dad on each day of the month of June.
Our second "30 For 30″ 2013 dad is Arome Ameh from Nigeria.
————————————————————————————-
The Dad Bio
Arome Ameh is a blogger and screenwriter who quit his job in banking to become a stay-at-home dad when he realised that both him and his wife (who was also a banker then) rarely had any time for their daughter Isabella. Since becoming a stay-at-home dad, he has started to pursue his passion for writing, and since then, his wife also quit her job to start her own catering business www.rellas.com.ng.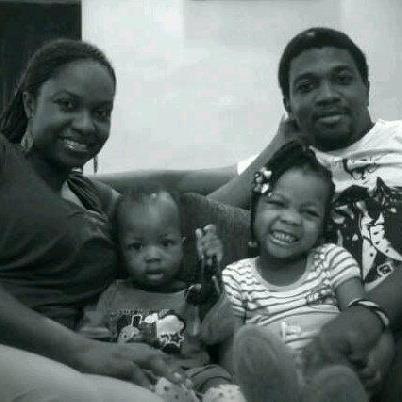 1. What is the best thing about being a dad?
Knowing that you have someone who looks up to you for protection, for love, for guidance.
Knowing that you have someone who thinks the world of you.
I quit my job when we had our first child, Isabella. My wife and I were both bankers at that time, and there was rarely time for our child, so one morning I just decided to become a stay at home dad. That was actually a great decision because I got very close to my daughter. What can I say? I love being a dad as it is both hectic and fun.
2. A dad is usually the first male role model in a person's life and fathers do have a significant impact on their sons' attitude towards women and girls. How has your father influenced the way you see and treat women and girls?
I never say my dad yell at my mum even once. I never saw him hit her My dad always told me always to respect women
I remember when I was 12, my dad told me, you are more of a man when you are able to treat a woman with the sort of respect you would like to be given.
I intend to bring my son up in that way.
3. Communities and activists worldwide are starting to recognise that violence against women is not a "women's issue" but a human rights issue and that men play a role in stopping the violence. How do you think fathers and other male role models can help get young men and boys to take an interest in and step up to help prevent and stop violence against women?
Well I have always felt men should play a vital role in this cause. This is basically one of the reasons why I started blogging about domestic abuse. In my spare time I go to schools to lecture young boys and girls on the ills of domestic violence.
Fathers should always teach their sons or male wards that respect for a woman makes you a real man, and not the other way round. Young men should be made to understand that women are human beings and not objects for sexual pleasure or the "weaker sex". Young boys/men should be made to understand that hitting a woman is wrong.
This education in respect for women and girls and in non-violence should start as early as possible, while the minds are still fresh.
————————————————————————
Want to honour your Dad in a different way this Father's Day without breaking the bank?
We offer two (2) easy and fabulous options:
Option A: Make a Small Donation
Help The Pixel Project keep our anti-Violence Against Women campaigns and projects sustainable by making a small donation on behalf of your dad to us.
Click here to learn how your donation will be used and to donate: https://www.thepixelproject.net/getting-involved-an-introduction/donate-to-the-pixel-project/

Option B: Dedicate a Song to Him
For just $0.99, you can download our first Music For Pixels song – a cover of 'The Rose' by AHMIR, YouTube's #1 R&B group and upload it onto your Dad's computer's iTunes or digital music player. Not sure about it? Listen before you buy: