This month's inspirational interview is with Urmi Basu, founder of New Light. New Light is a non-profit community project based in Kalighat, Kolata, on of the oldest red light districts of the city. Urmi founded the organisation in 2000 to provide a variety of services and support for children, girls and women in the Kalighat community who are victims of trafficking, prostitution and other needs of women and girls. She faced staggering need in her community, and started with minimal support. She has dedicated her work and her mission to save girls from becoming victims of sexual exploitation and to improve the lives of the children of sex workers. "On a global scale the problem of prostitution is so complex and huge that I would be completely overwhelmed if I think about it," Urmi says. "I choose to reduce the aperture of my vision and concentrate my energy only on things that I can do."
__________________________________________________________________________________________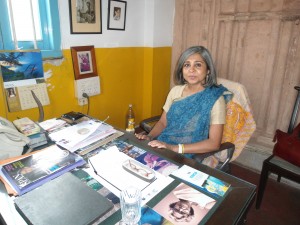 1. How did New Light begin?
In 2000, the local boys club approached me for funding to start up a sports club. Many of the young boys lived in the Khalighat area and were children of sex workers. The more I got to know the boys and their neighbourhood, the more I identified a need to help these children. There were many NGOs working in Khalighat at the time, but there were none specifically helping the children with pastoral care- particularly at night. The evenings and night are the busiest times for sex workers, and without any other care options, the children would often end up in the same room as their mothers and the clients. I decided to open a crèche to look after the children during these times. I made a decision to help them. In 2000, New Light was born.
2. What are the aims of New Light?
We know that most women involved in the sex trade are victims of circumstance and would choose a different life if they had the opportunity to do so. We aim to give victims of trafficking, sex workers, and the children of sex workers a life of dignity by offering access to education, healthcare, and opportunities to change their profession through life skills training.
New Light gives each and every child in our care the opportunity to reach their full potential. All of our children receive mainstream education, access to shelter, food, and a place where they can feel safe.
We provide legal aid to victims of trafficking, healthcare for women who are HIV positive, contraception, and access to work-training opportunities. We aim to close the gender inequality gap and prevent violent and sexual abuse against women and girls. We aim to give them hope of a better life.
3. Please give us a brief overview of the problem of prostitution and trafficking in India today.
The trafficking of women and girls is a huge problem in India today. The prime reason for trafficking is born out of rapidly diminishing agricultural work and poverty, as it is an endemic problem for many families in rural communities throughout India. Traffickers prey upon farmers who do not have enough money to feed their families. Typically, they promise domestic work for young girls, usually around 8 to 9 years old, in the larger cities and promise the family a certain amount of money every month in exchange for their work.
The gender inequalities throughout much of Indian society today mean that girls are of less value than boys. Families will therefore sell their daughters to traffickers, believing they will work and also be looked after. The tragedy is that these young girls are sold to brothels and become the victims of sexual violence and abuse. Many of the girls will be drugged, coerced, and raped. The girls can become addicted to drugs, which will make it difficult for them to escape their circumstances. Many become HIV positive within a few years.
Traffickers are targeting young girls by approaching them directly, as well. Often traffickers will pose as "happy families" and offer girls living in poverty hope of an exciting life in the city. Once they are under the power of traffickers, it is difficult for them to leave.
Kolkata is a source and destination area for many trafficked girls. Girls are trafficked from Bangladesh, Nepal, Burma, as well as many rural areas in India including Darjeeling. The girls who live in the hills are often fair skinned and beautiful, and are therefore sought after by traffickers because they can demand a higher price.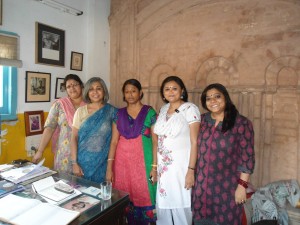 4. Tell us about some of the girls and women who were sex trafficked that New Light are working with, and how their lives have improved with your assistance and guidance.
I am proud to say that we have given many trafficking survivors the chance of a better life with respect and dignity. Through peer education, acceptance without stigma, and opportunities to retrain, survivors of trafficking can earn a living without needing to sell their bodies. Many of them work for us here at New Light now. Our most notable and successful project is a micro-finance project in which former sex workers are trained on how to weave and make clothes and blankets. For more information please visit the website: http://anchalproject.org/
We have also helped survivors of sex trafficking by helping their children. Many of the first generation children that we started caring for 13 years ago have now graduated from university. Imagine the difference that having a graduate in the house makes! Our school offers human rights training, which gives our children a strong understanding of gender equality and the gap that exists in India today. Two of our first generation kids are now nurses, three are studying Sociology and Economics, and one is applying for the Ashoka fellowship for social entrepreneurs.
5. Please tell us about a typical day for the children whose lives New Light is helping to rebuild.
A typical day begins at 7:30am with breakfast, after which all of our children go to nearby schools. We have the ability to act as the children's guardians, which allows us to help them if they come across any difficulties while at school. After lunch, they return to New Light and rest for a few hours before attending an assembly where we all come together and talk about various subjects. In the evening, they will meet with their teachers for lessons. Our children have access to many different subjects due to the amazing volunteers we have had over the years. They have learnt German, French, dance, yoga… the list is endless!
6. What problems do the children of prostitutes face?
Stigma is one of the biggest problems facing these children. Sex workers are ostracised from Indian society and, as a result, so are their children. Some of the sex workers are HIV positive, as well. The fear of AIDS stems from ignorance; unfortunately, we have a lot of ignorance here in West Bengal.
To find out more about the children at New Light, please watch some of the videos on this page about their lives, their hopes and aspirations.
Part 2 of the interview will be published May 27th, 2013.