Welcome to The Pixel Project's "30 For 30" Father's Day Campaign 2012! In honour of Father's Day, we created this campaign:
To acknowledge the vital role Dads play in families, cultures and communities worldwide.
To showcase good men from different walks of life who are fabulous positive non-violent male role models.
Through this campaign, we will be publishing a short interview with a different Dad on each day of the month of June.
Our twenty-fourth "30 For 30" Dad is Brian Gardner from New Zealand.
———————————————————————————
The Dad Bio (In His Own Words):
I am a father of three great children, two sons Flynn and Aidan, and a daughter Tara. I have been with my life partner Heather for twenty two years. I work for an NGO – Te Kupenga / National Network Stopping Violence Services in Aotearoa, New Zealand that works with men to eliminate violence and abuse to women and children. As a young man I used violence to control others but with the challenge and support of men and women, I started on a life journey of change. When I'm not working with community and government organisations, I'm coaching football, cooking food, running and being with family and friends.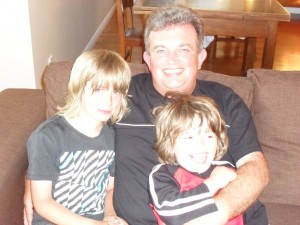 1. What is the best thing about being a dad?
The best thing about being a dad is seeing my kids develop into fantastic people. It is exciting to see how individual they are while picking up on the values and ideas we have as a family. They have the ability to think for themselves, work out what they want from their relationships and they shape all of this through their life experience.
2. A dad is usually the first male role model in a person's life and fathers do have a significant impact on their sons' attitude towards women and girls. How has your father influenced the way you see and treat women and girls?
My dad's attitude to women and girls was not a good way to learn about equality and respect. He grew up in a time where he believed that men were the boss, that they should be in charge because they are logical not emotional and that he had the right to put my mother in her place. Sadly as a young man this is the "script" I took on, at mine and my partner's cost. My own journey to a life of non-violence, equality and respect has actually influenced my dad who is a much better grandfather, father and partner now than when he was young.
3. Communities and activists worldwide are starting to recognise that violence against women is not a "women's issue" but a human rights issue and that men play a role in stopping the violence. How do you think fathers and other male role models can help get young men and boys to take an interest in and step up to help prevent and stop violence against women?
I think that as well as being a human rights issue, violence to women is a men's issue. The reality is that overwhelmingly violence against women and girls is by men. As a man and father I need to have the wisdom and courage not to hide from this fact but take it personally, respond in the "right way" and take action. As a father I need to be congruent in all parts of my life. My son's and daughter need to see me being respectful to their mother and other women in our lives not just talk about it. As men and fathers our actions, not our good intentions carry the most powerful message.
————————————————————————
Want to honour your Dad in a different way this Father's Day without breaking the bank?
We offer two (2) easy and fabulous options:
Option A: Make a Small Donation
Help us raise US$3000 or more this June by donating US$30 on behalf of your dad to our Celebrity Male Role Model Pixel Reveal campaign to help unveil our first superstar Celebrity Male Role Model – a beloved Nobel Laureate. US$30 will unveil 30 pixels and proceeds from the pixel sales are in benefit of the USA's National Coalition Against Domestic Violence and Malaysia's Women's Aid Organisation.
Click here to donate: https://reveal.thepixelproject.net/buy-pixels/
Option B: Dedicate a Song to Him
For just $0.99, you can download our first Music For Pixels song – a cover of 'The Rose' by AHMIR, YouTube's #1 R&B group and load it onto your Dad's computer's iTunes or digital music player. Not sure about it? Listen before you buy here: