Welcome to The Pixel Project's "30 For 30" Father's Day Campaign 2012! In honour of Father's Day, we created this campaign:
To acknowledge the vital role Dads play in families, cultures and communities worldwide.
To showcase good men from different walks of life who are fabulous positive non-violent male role models.
Through this campaign, we will be publishing a short interview with a different Dad on each day of the month of June.
Our twenty-third "30 For 30" Dad is Tab Pierce from Washington, USA.
———————————————————————————
The Dad Bio (In His Own Words):
I'm the President of Caliber Security Partners (www.calibersecurity.com) and am the father of three sons and a daughter. It's crazy to think my daughter is 13 and my sons are 18, 21 and 22. I have the most AMAZING wife too: she's made life great and helped me to raise fantastic children too. I enjoy camping and fishing with my sons and spending my money with my daughter. I love my work, but being a father and husband is simply the greatest gift I've been given. I'm very blessed.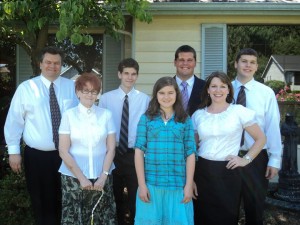 1. What is the best thing about being a dad?
Everything. I enjoy the fun, the learning, the relationships, watching them grow, like I said everything. But I probably enjoy the one on one discussion I have with each, where I get to hear how each is growing and copping with life. Each one's growth is gratifying to watch, that's probably the best of everything.
2. A dad is usually the first male role model in a person's life and fathers do have a significant impact on their sons' attitude towards women and girls. How has your father influenced the way you see and treat women and girls?
My dad was a great man, not perfect and had to handle some of his own issues. Nevertheless, he was always respectful to my mother, which I appreciated when I was young. Since I've become an adult I appreciate it more as it has also influenced how I treat my wife and daughter. In fact, he has influenced how I treat and respect all women.
My father would always ask my wife how I was treating her, every single time he saw her. It drove me crazy, but now that I have a daughter-in-law I understand more why he did it and I ask my daughter in law often the same question.
3. Communities and activists worldwide are starting to recognise that violence against women is not a "women's issue" but a human rights issue and that men play a role in stopping the violence. How do you think fathers and other male role models can help get young men and boys to take an interest in and step up to help prevent and stop violence against women?
Well not to be Captain Obvious, but don't take part in it yourself and take on a zero tolerance approach.
I think men want to see strong men, not weak ones that get manipulated by women. We should always be equal, not one above the other. Strong men influence other men and those strong men can show that they can be loving, understanding, strong, powerful and against violence against women (and others). We need men and boys who are violent to see that violence is an act of weakness and cowardice. It is not strength in any way. It takes a strong man to not lash out at others and there's no strength in the inability to control yourself. Now…let me step off of the soapbox.
————————————————————————
Want to honour your Dad in a different way this Father's Day without breaking the bank?
We offer two (2) easy and fabulous options:
Option A: Make a Small Donation
Help us raise US$3000 or more this June by donating US$30 on behalf of your dad to our Celebrity Male Role Model Pixel Reveal campaign to help unveil our first superstar Celebrity Male Role Model – a beloved Nobel Laureate. US$30 will unveil 30 pixels and proceeds from the pixel sales are in benefit of the USA's National Coalition Against Domestic Violence and Malaysia's Women's Aid Organisation.
Click here to donate: https://reveal.thepixelproject.net/buy-pixels/
Option B: Dedicate a Song to Him
For just $0.99, you can download our first Music For Pixels song – a cover of 'The Rose' by AHMIR, YouTube's #1 R&B group and load it onto your Dad's computer's iTunes or digital music player. Not sure about it? Listen before you buy here: