Below is part two of our interview with photojournalist Walter Astrada. Please note that some of the images in this post are of a graphic nature. Part One of the interview can be found here.
You spent some time in India, focusing on infanticide and the low status of women. Your photo of a woman named Utma shows only her charred feet. I understand that her family couldn't afford to pay the dowry to her prospective husband, and retribution involved Utma being doused with kerosene and set on fire. Tell us about your experiences in India.
India was the third country I visited in Asia on my journey to document violence against women. It was very interesting, and at times, quite a shocking experience for me. Violence against women exists in many forms in India. There are honour killings, domestic violence, rape, trafficking of women, women being forced to commit infanticide (abortion based on the sex of the child) and prejudice against women if they become widows. From birth until old age, many women in India face a constant threat of violence and too frequently, death.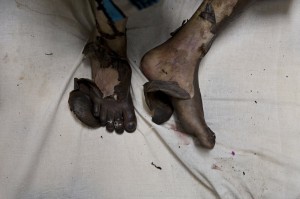 The numbers are staggering. Since 1980, an estimated 40 million women are 'missing,' by way of abortion, neglect or murder. 7,000 female foetuses are aborted every day according to the U.N.; aborted solely because they are girls. One dowry death is reported every 77 minutes. Countless others are never known. To view a short film of my time experiences and what I learnt in India, please click here.
Again the people involved in committing these crimes often act with impunity. The government have made infanticide illegal, but as you can see from my film, many women are still harassed and tortured if they do not produce a son.
You have travelled extensively and have clearly taken photos in many harrowing circumstances. How do you stay mentally strong? What keeps you going?
That is a good question! I think having good friends that you can talk to is important. I try to disconnect when I'm not working. I read a lot and go to the cinema.
What do you hope to achieve with your photos?
I believe photojournalists can bring about change through education. We can translate what is happening in different countries through the use of powerful images; this can bring about a change in attitudes. A teacher in the Netherlands showed my short film on violence against women in India to his students. A 13-year-old girl from that class wrote to me and asked me what she could do to make things better.
I know that it's not possible to change the world with one photograph, but I hope that if after some people see my work and they start to think that what they see is not right, then I think I achieved my purpose. For that principally I work on topics where human rights are not respected.
How can we support the valuable work of ethically motivated photo-journalists like yourself?
The best way to support the work of photojournalists like me is to award grants or give donations. We need financial support from people who believe in independent photojournalism, as the sector is hugely underfunded.
Some additional photos from Mr. Astrada's Violence Against Women collection: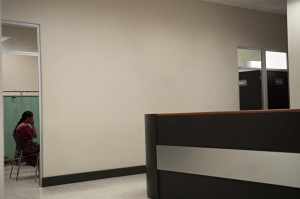 GUATEMALA CITY, GUATEMALA – APRIL 2, 2007: Filomena Sajche, 30, reacts as she talks to a forensic doctor while filing charges against her husband at the Public Ministry building in Guatemala City. (Photo by Walter Astrada/Reportage by Getty Images)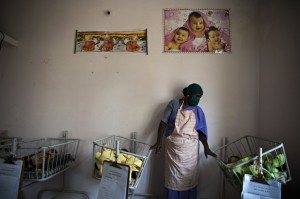 SALEM, INDIA – FEBRUARY 8, 2010: A nurse takes care of abandoned baby girls in the Life Line Trust Home in Salem (Tamil Nadu). In its latest initiative to wipe out the practice of female foeticide and female infanticide, the government of Tamil Nadu has set up cradles homes where unwanted girls can be abandoned. (Photo by Walter Astrada for Alexia Foundation/Reportage by Getty Images)