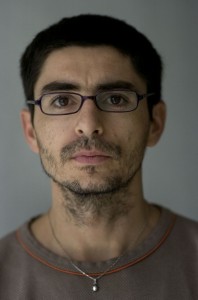 The award winning photojournalist, Walter Astrada, captures the battle many women face in their fight against violence. His candid, raw and stunning collection of photos, "Violence against women," brings the viewer a giant step closer to the realities many women face in their battle for equality, and to live in a world free from violence. Astrada's five-year-long project took him to every corner of the globe, including the war torn Congo, rural India, and the streets of Guatemala. The Pixel Project caught up with him to find out more about his incredible collection of photos, the inspiration that led him to create them, and the motivation behind his intensely candid approach.
What inspired you to become a photojournalist? Where did it all begin?
At the age of 13 I decided that I wanted to be a photojournalist, after seeing an exhibition of Argentinean press photographers. When I finished high school, I did a workshop on photojournalism and the next year I completed another. When I finished the second one, I did an internship in the newspaper, La Nacion.
When I finished the internship it was not possible to stay on as photographer. I decided to continue working on my own to prepare a portfolio and leave Argentina. When I was ready to leave I called the photo editor of La Nacion to show him my portfolio. After he finished looking at it, he asked me if I was working for anybody. My answer was 'no' because I made the portfolio working on my own. He offered me a 3-day test to be photographer. After the 3 days I was officially working as a photographer for La Nacion.
But what I really wanted to do was travel and shoot my own projects. Two years later I left the paper and I started to travel around South America and work on my own projects. I worked for AP in Bolivia, Argentina, Paraguay and the Dominican Republic.
I left AP in 2005 and I become freelance and this is what I have been doing ever since.
"This powerful view of the global effects of violence on women is a result of Mr. Astrada's strong personal conviction and stubborn perseverance." James Estrin, New York Times blog. Your five year long project "Violence against women" is a haunting, unapologetically graphic portrayal of the human rights abuses suffered by women all over the world. Where did your passionate conviction or "stubborn perseverance" come from? Was there a catalyst?
In 2006 and 2007 I was working on a project in Guatemala documenting the killing of women, commonly known as "femicide."
I met a photographer who was working on a story about street children and I learned from him that many of the children facing daily life on the street were not orphans; many had run away from home to escape domestic violence.
Along with my own experience documenting violence against women and a lot of information I realised that violence against women is far reaching, and affects society as a whole.
I think as journalists we need to work on the most important issues. When 50% of the population of a country is under threat of rape and violence just because of their gender, this a huge issue that must be documented. Most photojournalists that work on the issue of violence against women are women. However it is important to me, and that is why I document it through my work.
When commenting on your collection you said, "It's not a woman's problem. It's a societal problem." Please expand further on this comment.
Violence against women is a huge problem that not only causes a lot of suffering to the women who are direct victims of this violence, but to many other parts of a society. As the example above illustrates, it affects children as well. Whether they are witnessing the violence at home, or they are the product of a rape, they can also experience long lasting psychological and physical damage.
It also affects the economy. Women who are beaten by their husbands often do not have the physical and mental capabilities of working. It not only deeply affects this woman's life but it also has an adverse effect on the economy as well.
It is a societal problem. You cannot say a country has a good human rights record if 50% of the population is adversely affected by violence just because of their gender, whether that is America, The Congo, the U.K or Norway. Violence is a violation of a person's human rights, and it must be addressed and recognised.
Last year I worked on a project called "The Long Shadow of Walls". It was a collaborative project where myself and 3 other journalists explored the negative effect borders can have on a community or a country. I discovered through my work that violence doesn't have borders. It creeps through walls, behind doors and into the lives of the many in any country, in any community.
Violence against women is everywhere.
Your photos are haunting and unashamedly vivid in capturing the brutality and sexual violence many women face. Why have you taken such a candid approach?
There are many different approaches when looking at one subject. The violence we witness in these photos is not easy to look at… but it also wasn't easy for the women in the photos to experience this violence. My question is not, "Why are the photos showing this terrible violence so candidly?" My question is: "Why did these women have to suffer the violence in the first place?"
It's important for me as a photographer to show the real dimension of the violence. We are not respecting these women if we show a less graphic version of what happened to them. We must show the viewer what really happened – only then is the pain they went through truly recognised. We need to show what is really going on.
Many of your photos have been taken in war zones. In your experience as a photojournalist, what is the effect of war on women?
In many conflict situations, rape is used as a weapon of war. We saw it in the Rwandan genocide in Africa, we witnessed it in the massacre of Srebrenica: rape is used by an army to destroy the morale of the enemy and attack their "honour." This tragedy happens because often the soldiers have impunity. Many of the victims of the rapes that took place in the Balkans war have to live in the same villages as the men who raped them. The devastating psychological effects to these women are not recognised, and often the soldiers committing these crimes are not brought to justice.
When peace is being negotiated, usually the sexual violence committed against women is not discussed. Never are the long term effects these women have to endure—like pregnancy after rape, HIV infection, the psychological damage—brought to the table.
More needs to be done to bring rapists to justice, and more help needs to be given for the women who have to live with the terrible long-term effects. I spent some time in The Congo, a country which has been ravaged by war. Rape is a huge problem and again, the soldiers are given impunity. Sometimes there are trials but it takes a very long time for these men to be brought to justice. Another problem is the victims getting access to help. The women who are victims of the rapes often live out in the small villages. The charities and the NGOs who try to help these women are usually in the big cities and for women who suffered rape cannot get to the help they desperately need.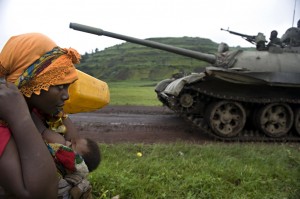 Hundreds of thousands of women have experienced brutal sexual violence in the war torn Republic of Congo. The photo of the young mother carrying her child at her breast is in great juxtaposition of the ominous and imposing tank in the background. Tell us about how you captured this incredible image and what it means to you.
This picture was taken in the midst of the Congolese Army making their advance to a position of CNDP* militia near Goma. They were fighting and the people were fleeing in droves. It was apocalyptic. For me, this photo has all the elements of war… the guns/ munitions/ tanks used by the army, the women or civilians suffering from the violence, and the child at her breast. All there together in the one image.
The fear in the young woman's eyes staring at the tank, will always haunt me.
* The National Congress for the Defence of the People (French: Congrès national pour la défense du peuple, CNDP) is a political armed militia group established by Laurent Nkunda in the Kivu region of the Democratic Republic of the Congo in December 2006.
Part Two of our interview with Walter Astrada will be published tomorrow, Monday November 14.
Some additional photos from Mr. Astrada's Violence Against Women collection: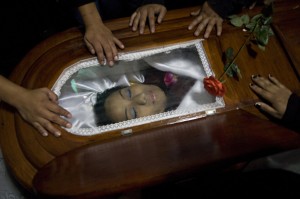 EL MEZQUITAL, GUATEMALA – NOVEMBER 19, 2006: Mourners of Samalia touch the coffin with her body in El Mezquital, Guatemala City. Noemi was shot 12 times in front of her own home. (Photo by Walter Astrada/Reportage by Getty Images)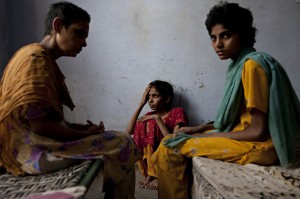 PUNJAB, INDIA – NOVEMBER 2, 2009: A group of women sits idly in their room inside a protection home in Rothak (Haryana). Many of the residents were rescued after being trafficked to be sold as wives or to work as prostitutes in Haryana and Delhi; they seem almost paralyzed by the trauma of their experiences. (Photo by Walter Astrada for Alexia Foundation/Reportage by Getty Images)