As part of our 'Inspirational Interviews' series featuring some of the bravest and most formidable activists working to end violence against women around the world, we are pleased today to share our interview with Frank Baird, the founder of Walk a Mile in Her Shoes®.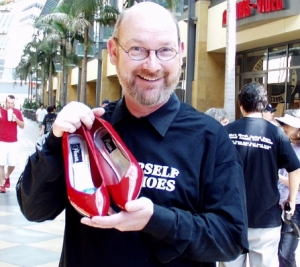 About Frank Baird
Frank Baird currently works as a Licensed Marriage and Family Therapist in California, Frank has a private practice in Westlake Village, CA. He is also team leader for the Adolescent Treatment Team and Couples Treatment Service at Kaiser Permanente, Department of Psychiatry in Reseda. He teaches Postmodern Therapies at Phillips Graduate Institute and Marriage & Family Therapy classes at California State University, Northridge. He has provided clinical supervision for therapists in training at Phillips Graduate Institute's clinic, California Family Counseling Center in the Postmodern Therapies Internship and at VTC until 2006 when he went on to pursue other opportunities.
Frank Baird first proposed Walk a Mile in Her Shoes®: The International Men's March to Stop Rape, Sexual Assault & Gender Violence to Valley Trauma Center (VTC) in 2001. Women had created a successful rape crisis movement and Frank was grateful to have been able to join their efforts. He had worked with VTC since 1993 and wanted to increase the opportunities for men to contribute to efforts to end sexualised violence.
Firstly, we'd like to know a little bit about you. How did you begin your journey as an activist on sexualised violence? Why did you decide to do it?
I was interested in pursuing more meaningful work. I was selling malpractice insurance to attorneys and was considering attending graduate school to become a marriage and family therapist. Someone at one of the graduate schools suggested I volunteer as a counselor somewhere to see if I'd really like doing a lot of it. Sometimes what seems like a good idea looks less and less so the more and more you do it.
So I volunteered at a rape crisis center and became certain this was the work I wanted to do. I committed to graduate school, got my degree, got licensed and continue enjoying this valuable work.
I like working as a psychotherapist because everything I learn personally is valuable in my career and everything I learn professionally is valuable in my personal life and relationships.
Did you have much experience in advocacy and activism before the 'Walk a Mile in Her Shoes' campaign? If so, how did that experience help in the running of 'Walk a Mile in Her Shoes'? If not, how did you develop that experience while working on 'Walk a Mile in Her Shoes'?
I began learning advocacy one client at a time while working as a counselor at a rape crisis center. When you work at a rape crisis center, you learn how pervasive a problem is sexualised violence.
Victim recovery and sexualised violence prevention is not an individual problem and effort. It occurs in, is supported by and remedied in, a social context. Advocacy and activism became inevitable.
Sexual victimisation is authorized and enacted officially or unofficially by social discourses. Social discourses are relational. We all participate. That means we are all responsible for the establishment, maintenance, and deployment of them. We are also all responsible if we want to deconstruct, revise or disable these discourses.
Advocacy and activism are required to encourage people to overcome the individualist thinking that masks collective participation and responsibility.
My wife, Patti Dengler, was instrumental in developing my views. She was the Executive Director of the rape crisis center and her passion and mission and dedication inspired me personally and professionally. While I was initially involved with just one client at a time, she was always busy managing large numbers of services and providers and always trying to optimise the difference we could make with limited financial resources and personnel. These multiple perspectives, the personal and the societal, shaped my development as an advocate and activist.
What gave you the idea to start 'Walk a Mile in Her Shoes'? When you began, did you anticipate the popularity it would have right now?
The idea was inspired by Eve Ensler's annual V-Day. I had co-directed a production of The Vagina Monologues as a fundraiser for a local rape crisis center. We sold out a 500 seat theater and raised a lot of money. It was also a deeply meaningful experience for the women actors, the women in the audience and the men accompanying them.
I was inspired by some of the wild ideas fellow V-Day producers were incorporating in their productions, the success of these fundraising efforts and an interest in creating something men could do for the cause.
We came up with this wild idea that we could ask men to walk a mile in women's high heeled shoes. It would be fun, outrageous and, most importantly, experiential. The Walk is different from the experience of The Vagina Monologues in that the monologues are by and about women. Walk a Mile in Her Shoes is about men's empathy and support for women.
In how many countries around the world have 'Walk a Mile in Her Shoes' events been conducted?
The Walk has the most momentum in the United States where it was born. Canada has the second greatest number of Walk Events. We've had a few in Australia, one in New Zealand, one in Nigeria, one at a U.S. Military base in South Korea. This year we'll also have Walks in England, Ireland and Malaysia. Each year we have more Walks in more places around the world.
How has the campaign fared in different parts of the world? Were there certain communities who were more resistant to the idea and how did you or the event coordinators overcome this resistance?
So far the Walk has fared very well throughout the world. We've only had one Walk Event in 10 years cancelled because of local misunderstanding. One small community in a New England state was "not going for such foolishness." The organisers of that Walk Event said the "disinterest" in the Walk Event was as much because the community didn't want to publicly "talk about the uncomfortable subject of rape" as it was about it being "unmanly" for men to walk in women's shoes for any reason.
Of course, most communities who are not yet ready to address sexualised violence against women or who are unsure how to engage in the playfulness of gender roles probably don't even try to organise a Walk Event.
For the most part, though, we are pleased to see communities large and small embrace the cause of Walk a Mile in Her Shoes® and engage men in their efforts to educate and overcome sexualised violence against women. Even elected and other community officials are stepping up and walking the walk. We've seen mayors of towns, firemen, policemen, business leaders and others who are normally cautious about their public appearance see participation in a Walk Event as an opportunity to show themselves as a "Good Man" and leverage their visibility and credibility to support this cause.
Part Two of our interview with Frank Baird will be posted tomorrow, Monday May 23, 2011.