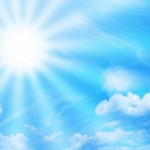 The Democratic Republic of the Congo (DRC) can be a very dangerous place for women. The Christian Science Monitor noted in a report last year that there was a "17-fold increase in civilian rapes between 2004 and 2008." To give some idea of the numbers, the book Half the Sky states that there were 27,000 sexual assaults in 2006 in the province of South Kivu alone.
Yet, a recent story on the Huffington Post shows a glimmer of hope. Written by actor Charlize Theron, the article talks about the City of Joy.
A project of V-Day, the City of Joy provides: "up to 180 women a year with an opportunity to benefit from: group therapy; storytelling; dance; theater; self-defense; comprehensive sexuality education (covering HIV/AIDS, family planning); ecology and horticulture; and economic empowerment."
Even better, as Ms. Theron notes, the idea for the City of Joy came from the women of the DRC. It even involved a mostly female construction team. Ms. Theron says that the women initially doubted their ability to do the work, but welcomed and rose to the challenge.
To read more about the City of Joy and to see its plans and footage of its construction, visit the V-Day website.