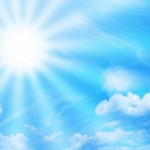 In June, 2010, a woman in the American state of Iowa started a non-profit organization to help victims of domestic violence heal through the practice of yoga. YogaG matches yoga instructors with domestic violence shelters. As a survivor writes on the yogaG website, yogaG provides "free yoga instruction, a free mat, and a chance for women to take some time out of their day to just relax, breathe, and try some yoga postures."
Yoga offers many potential benefits to women and children who have experienced abuse, as noted in an article on the JustMeans website:
"The emotional benefits of yoga are important to women and children who are going through major life changes. Yoga instills a sense of body confidence that is crucial for women who may have endured feelings of inadequacy in an abusive relationship. In addition, seeing changes in flexibility, strength and movement also instills a sense of accomplishment" in those who practice yoga. Yoga is also known to relieve stress and improve mood in adults and children.
Other organizations offer similar programs, including YogaHOPE and the Boulevard Zen Foundation.
Introducing yoga to vulnerable women and children can help them find peace, improve their confidence, and begin the road to recovery.
If you have good news story that you would like us to feature, please email me at crystal@thepixelproject.net.