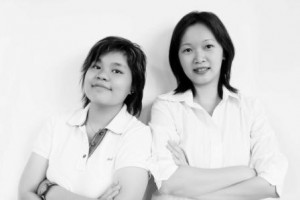 Although the website is already launched, our job as the web design team does not end here. Over the next few months, it will be more crucial as more content is added, linked and cross-linked for the run-up to the Great Celebrity Male Role Model Collage Pixel-by-Pixel Reveal in 2010.
When I spoke to Regina early in January this year, I gave my thumbs-up to the project because it would help in more ways than just raising money for two very special organisations – Malaysia's Women's Aid Organisation and the USA's National Coalition Against Domestic Violence. (Did I tell you I met Regina when we were both nominees at the Malaysian Women's Weekly magazine Great Women of Our Time Awards last August?)
Here's a confession – I am not a web designer by training but I do know my coding after being in this business for the last couple of years. Our company isn't really into web design as most design companies are. We use websites as a marketing platform for clients. In short, a website is a marketing tool. So Redbox Studio is really a web strategy company, using websites as marketing tools to help clients get more business.
So what am I doing here? I came onboard because I enjoy contributing my skills. And unlike other contributors, I don't have a personal story to tell. I'm just here because I feel I can help in my own way.
It also helped that I got an engineering student who had interned at my company to help out. She was keen to help and I am deeply appreciative of her dedication as she executed the design concept for the website based on our discussions and briefings (online and offline). At the tail-end of the project, when Vern was busy mugging for her exams, I roped in Tiffany (one of my staff) who also deserves credit for putting in her hours with the tweaks and amends.
So were there challenges while building this website in the past 3 months? I would be lying if I said we had everything under control. As this is a pro bono project, we juggled it with clients' web design projects. Many a time, we'd be stealing time to work on this during office hours. I'd work on the amends on weekends or when Tiffany or Vern were busy.
We re-negotiated deadlines, we made amend after amend, we tested it over and over. We worked with technical issues such as cross-browser compatibility. I'm proud to say that we did not use any design software to design this website; it is coded by hand. Every line of it.
This website is a team effort – without Jillian Edelstein's photos, we would not be able to do this. Without the copywriters and graphic designer, we wouldn't have content. Without each Pixel Project volunteer, we wouldn't have a website to speak of. Without the idea, there wouldn't be a website.
With the website launched, I'd say the ride has just begun – let the global awareness and fund raising begin!
It truly is time to stop Violence Against Women. Together.
– Krista Goon, Head of Web Design – The Pixel Project