Welcome to part two of our July 2020 Inspirational Interview with Valerie Barter, executive director of Violence Prevention Avalon East, an alliance that spans the Eastern Avalon region of Newfoundland and Labrador in Canada.
Valerie Barter is a strong feminist, intimate partner violence (IPV) survivor and long-time advocate for abused women, children and IPV survivors of all genders. Born and raised in Petty Harbour, Newfoundland, Valerie has worked in the nonprofit sector for 20+ years, including various women's shelters, the St. John's Status of Women Council, and as Executive Director of Planned Parenthood-NL. Valerie supports all individuals who experience violence or are seeking guidance in violence prevention in Newfoundland and Labrador.
In this part of the interview, Valerie discusses gender-based violence and how VPAE challenges the way children view "masculinity."
Part 1 of this interview was published on 26 July 2020.
Photos courtesy of Violence Prevention Avalon East.
---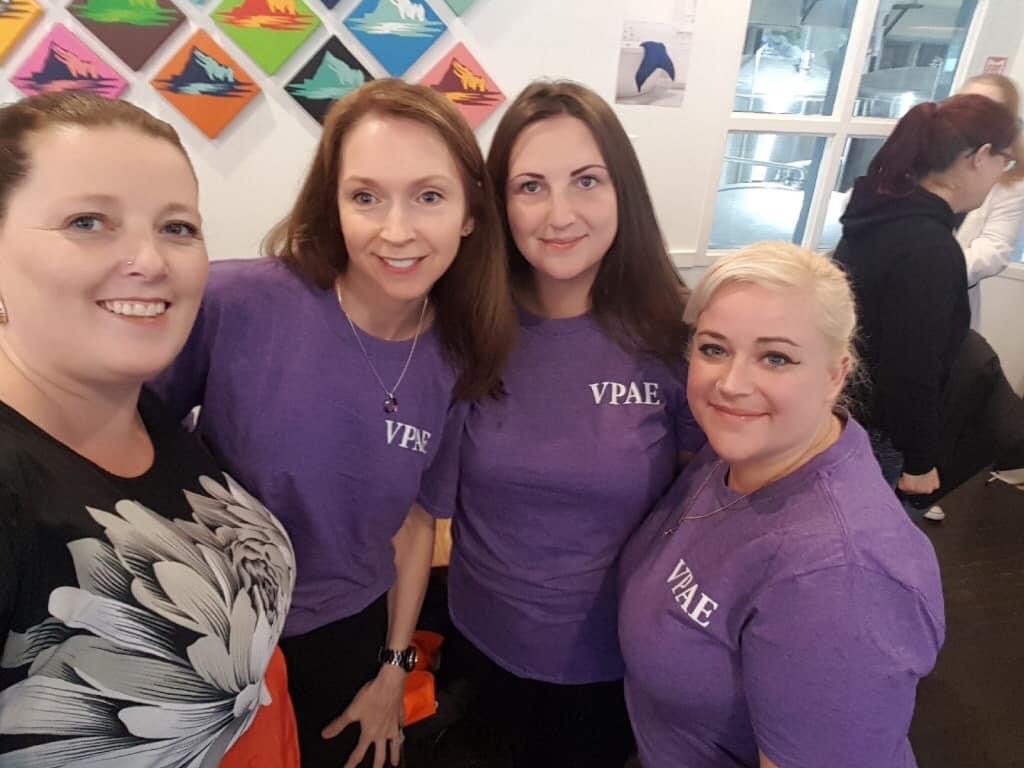 6. What are some of the particular challenges Canada faces when tackling violence against women, and how have regional alliances like VPAE addressed these challenges over the past few decades?
Violence against women and girls in Newfoundland and Labrador, Canada takes many forms. It includes microaggressions (sexualised/sexist comments, sexualised taunts, interruption, and appropriation of voice or ideas), groping in crowded areas (such as public transit), sexual assault and homicide. The roots of gender-based violence are all around us: it is in the language that we use, and in sexist jokes or comments that demean women; it is in media messages that objectify women; and it is in rigid gender norms we impose on children, both girls and boys.
We also know that gender-based violence affects differently and disproportionately those most vulnerable, including for example transwomen, Indigenous women, women of colour, LGBTI, gender non-binary people, women with disabilities, and refugees and displaced women.
As our educational programmes try to change the attitudes and course of our future, we listen to our survivors when they reach out to us. We believe our survivors. We support them and remind them of their value, their worth, and the happiness and safety they deserve. We also make a point to remain in contact with anyone who reaches out to us, if they allow that, so they remember we are always here to reach out if they need us.
7. How do you think men and boys can help to end violence against women?
Violence prevention has often been seen as a women's issue, but that's not the right way to look at it. The only way we're going to be effective at prevention is to look at the mindset and culture that causes violence, to involve men and boys, and to work collaboratively toward change.
Over the last few years, besides our regular support services, we've been working on a project called 'Navigating Modern Masculinity,' a partnership with Newfoundland and Labrador's famous Merb'ys. We effectively engage men in violence prevention, what it means to be "masculine," and we utilise these resources to attract all ages. We want to change the way in which children grow up viewing "masculinity," and open up the minds of those who only see "masculinity" as its traditional definition. We are still in the development phase of this province-wide educational campaign and are excited to see it launch in the coming months.
8. Tell us about VPAE's plans for the future. What campaigns, programmes, or projects do you have coming up in the next 5 years?
We'll continue to provide a high level of support to the community during COVID-19, and are developing online training sessions and webinars based on the education provided on this platform.
We also launched Protecting Children Online in 2020, an educational platform set up to support and teach parents about the realities of cybercrime, how to talk about setting boundaries with children, and best practices. Children are online more often than ever since COVID-19, and we want to ensure our parents are aware of the risks that come along with that. We plan to turn the information into webinars and training sessions.  It hasn't been confirmed if students are going back in September yet, so we are also turning the current K-12 Bullying Presentations/Toolkits into online webinars, to be used for school presentations.
We are also creating additional webinars and training sessions about gender inequality, dating violence, elder abuse, bullying, and other related issues, while finishing the creation of Navigating Modern Masculinity.
9. How can The Pixel Project's supporters engage with and support the efforts of VPAE to stop violence against women?
The Pixel Project's supporters can engage with Violence Prevention Avalon East by following us on Twitter and Facebook, and by sharing our information found on our website.
There are also others ways to support us:
Donate Money: Your generous donation is needed now, more than ever before. Your donation goes to good use, and no amount of money is too small, or too large.
Donate Items: We are accepting NEW in-kind donations such as care packages, food gift cards, arts and crafts, healthy relationship books, empowerment books, self-care coloring books, arts and crafts, blankets that we can deliver to our clients.
Volunteer: There are still ways to volunteer, while continuing to socially distance!
10. In your considered opinion, how can we end violence against women for good?
Violence against women and girls is a grave violation of human rights. Its impact ranges from immediate to long-term physical, sexual and mental consequences for women and girls, including death. It negatively affects women's general well-being and prevents women from fully participating in society. Violence not only has negative consequences for women but also their families, the community and the country at large.
Decades of mobilising by civil society and women's movements have put ending gender-based violence high on national and international agendas. Challenges remain, however, in implementing these laws, limiting women and girls' access to safety and justice. Not enough is done to prevent violence, and when it does occur, it often goes unpunished.
We ALL need to continue to fight for services and a justice system that is fair.