Welcome to The Pixel Project's "30 For 30″ Father's Day Campaign 2019! In honour of Father's Day, we created this campaign:
To acknowledge the vital role dads play in families, cultures and communities worldwide.

To showcase men from different walks of life who are fabulous positive non-violent and non-sexist male role models.

To provide dads worldwide a positive platform to share ideas about stopping sexism, misogyny, and violence against women and girls.
This is our 7th annual 30 For 30 campaign and through it we will be publishing interviews with dads from across the world throughout the month of June.
Our seventh "30 For 30″ 2019 Dad is Brett Mabin from the USA.
---
The Dad Bio
Brett is a quality analyst in commercial food production. He has two brothers and one sister, all older than him. From 2005 to 2017, he was the primary caregiver for his grandmother. When she passed away, he inherited the home they had shared. His wife and him met in a book club, online. They lived 1,300 miles away from each other, yet still managed to fall in love; he says she and her children stole his heart. He travelled a few times to see them all, and they all grew to love each other. In the summer of 2018, he moved them all to his home in Ohio and officially became a dad. Just like that, he went from the most confirmed bachelor to a family of seven. He could not be happier.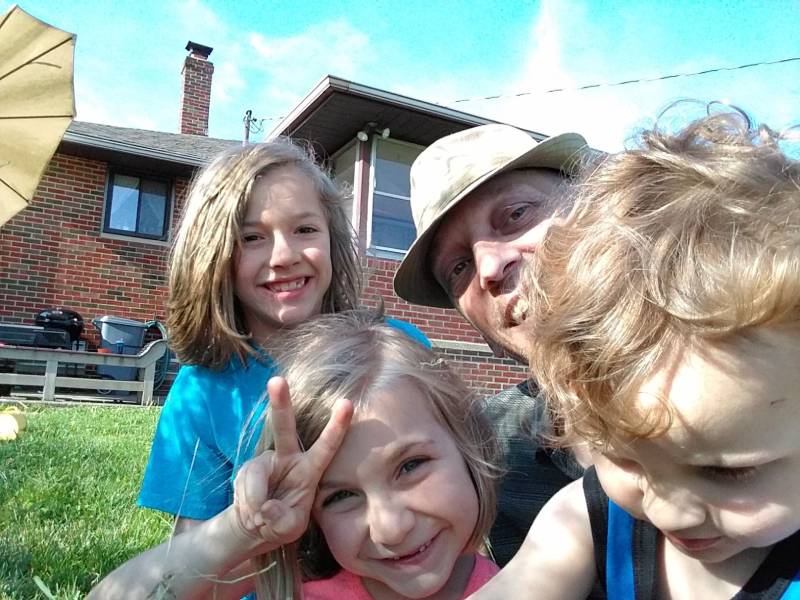 1. What is the best thing about being a dad?
For me, it's knowing that I'm helping to shape the worldview of children. It makes me more mindful of not only what I say, but what I do. Feeling the children's unquestioning trust and reliance on me and their mother is truly humbling. It is still very new to me, so I am sure that as the years progress I will realise even more rewards of fatherhood.
2. A dad is usually the first male role model in a person's life and fathers do have a significant impact on their sons' attitude towards women and girls. How has your father (or father figure) influenced the way you see and treat women and girls?
My father made it clear that men are not to ever strike women, and that women are to be treated with respect and love. He did not have to say things like that much. I learned it more from his actions towards my mother. While they would sometimes disagree, or even become angry, he wasn't ever violent or disrespectful. On the contrary, he was very affectionate and thoughtful. He always made sure to not only provide thoughtful, meaningful gifts for special occasions, he made a point of trying to make ordinary days and moments special with some small gesture or gift. He would brook no disrespect to my mother from anyone, including us kids.
3. Communities and activists worldwide are starting to recognise that violence against women is not a "women's issue" but a human rights issue and that men play a role in stopping the violence. How do you think fathers and other male role models can help get young men and boys to take an interest in and step up to help prevent and stop violence against women?
I believe that the best leadership is by example. First, I make sure that my sons and daughter do not ever see me disrespecting or being violent to not only their mother, but any woman or girl. I believe that it is very important for boys and men to not only recognise when another male is mistreating a female, but to stand up and make clear that such behaviour will not be accepted or allowed. Of course speaking with my children about these topics, specifically, is important. I want to reinforce those messages with examples of my own behaviour to ensure that my sons know how to behave towards not only women, but all people, and so that my daughter knows what sort of behaviour towards her is acceptable and desired, and what sort of behaviour is unacceptable and intolerable.