Welcome to The Pixel Project's "30 For 30″ Father's Day Campaign 2018! In honour of Father's Day, we created this campaign:
To acknowledge the vital role dads play in families, cultures and communities worldwide.
To showcase men from different walks of life who are fabulous positive non-violent and non-sexist male role models.
To provide dads worldwide a positive platform to share ideas about stopping sexism, misogyny, and violence against women and girls.
This is our 6th annual 30 For 30 campaign and through it we will be publishing interviews with dads from across the world throughout the month of June.
Our fifth "30 For 30″ 2018 Dad is Kelson Bruce from the USA.
__________________________________________________________________________________________
The Dad Bio
My name's Kelson Bruce and I am a project coordinator working for an engineering/manufacturing design company. My son Oliver is turning one this October and I can't imagine my life without him. I am a hands-on, goofy, outdoor loving, LEGO playing person, who is the most optimistic happy guy you'll ever meet. My son is a miniature version of me, mixed with the best parts of my wife Sara.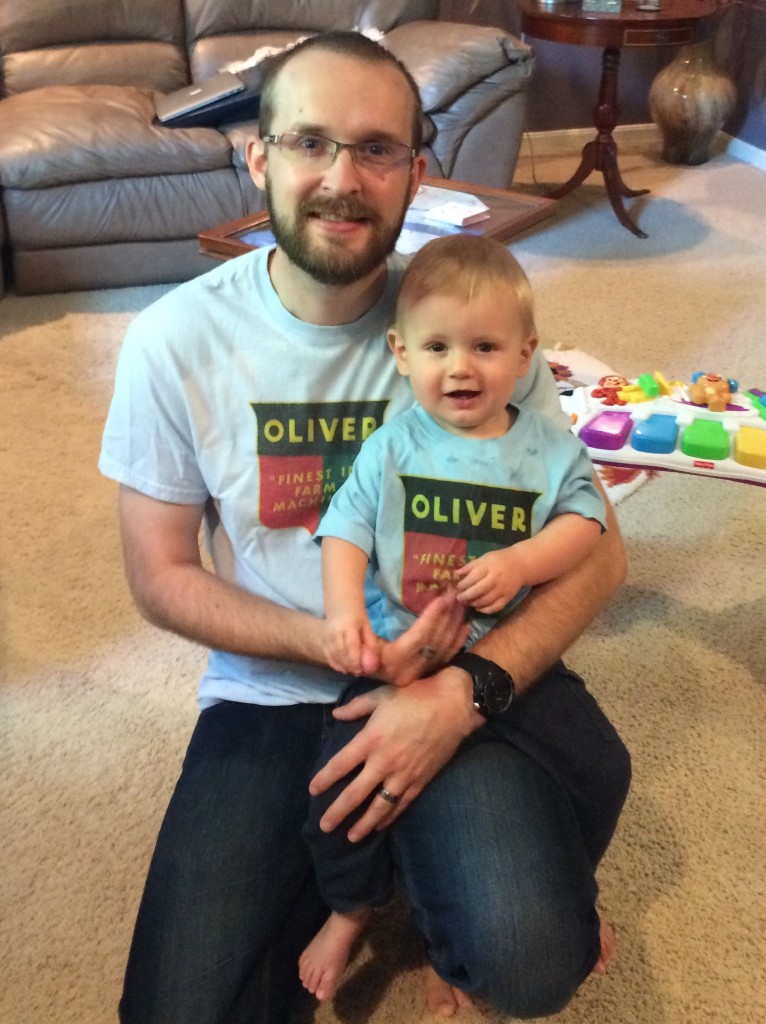 1. What is the best thing about being a dad?
The two greatest things about being a dad are getting to pass on the best qualities in yourself to your child, and to experience the world through a child's eyes. I get so much joy seeing Oliver grow and explore this vast amazing world we live in. He hasn't learned to hate, or be biased, or have fear, and to see what a person can do without those set-backs is truly astounding. Even if that person's only a child. I love every day getting to show Oliver the world I love and teach him what's important to be a wonderful human being. No better contribution in the world than fatherhood.
2. A dad is usually the first male role model in a person's life and fathers do have a significant impact on their sons' attitude towards women and girls. How has your father (or father figure) influenced the way you see and treat women and girls?
My dad has influenced the way I treat women and girls, even up to this day. It began with seeing my dad and mom's relationship and how he always showed her respect, love, and support. While they didn't always agree on things, violence and hate never once reared its ugly head in our household. I was very lucky. I saw what a partnership between a man and woman could be, and fostered my own relationships from that. My dad is kind, funny, and looks beyond gender when it comes to love and respect.
3. Communities and activists worldwide are starting to recognise that violence against women is not a "women's issue" but a human rights issue and that men play a role in stopping the violence. How do you think fathers and other male role models can help get young men and boys to take an interest in and step up to help prevent and stop violence against women?
The best approach I can think of to help foster understanding and prevention of violence against women is to be a role model yourself. As a man and father, I realise that it's vitally important not just to teach my son how to treat women, but to live it every day in my actions, behaviour, comments, and respect towards women. The love I show my wife, mother, and other women every day is witnessed by dozens of people, who then will emulate that to others, and so forth. A blizzard starts with only one snowflake. Be that person to trigger change!