Welcome to part 2 of our November 2016 Inspirational Interview with Laura Dunn, the Founder and Executive Director of SurvJustice, a national nonprofit providing legal assistance to sexual violence survivors across the U.S.
In this part of the interview, Ms. Dunn talks about campus sexual assault and what can be done to prevent and stop it from happening.
You can read Part 1 of Ms. Dunn's interview here.
____________________________________________________________________________________________________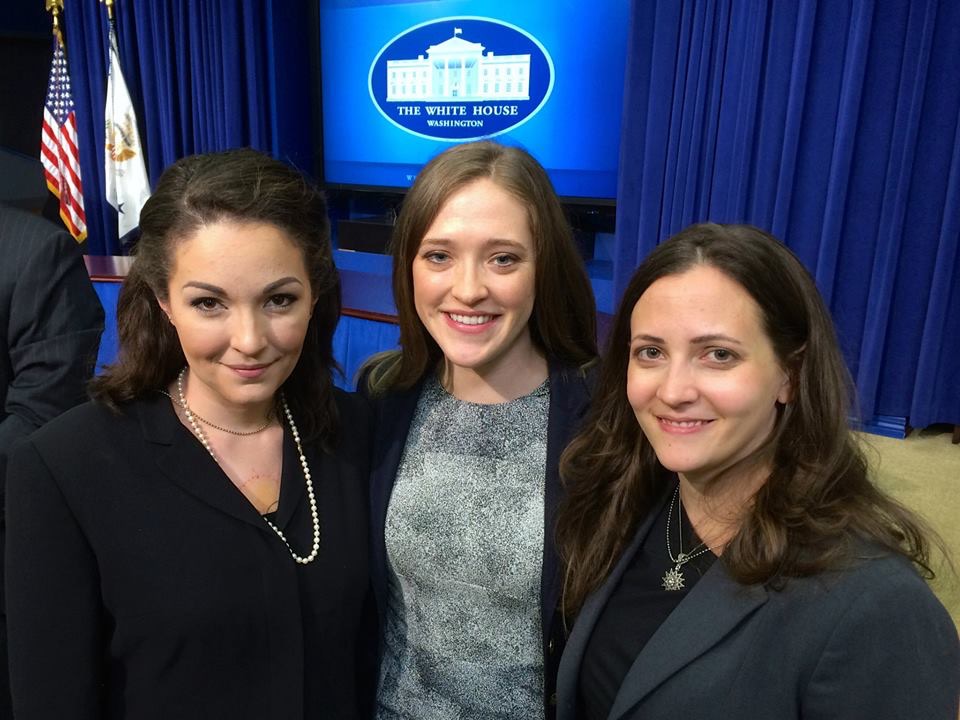 6. On the grassroots level, what can college students and university alumni do to help stop violence against women happening at their universities/alma maters?
SurvJustice encourages students to seek positions on policy workgroups, on campus judiciary teams, or within activist student organisation to get involved with how their campus is addressing gender violence. The recent U.S. movement against campus sexual violence has been led first and foremost by students and needs to continue throughout each student generation to be successful, which is why it is important for alumni to support current students groups partaking in activism.
Alumni have the "power-of-the-purse" so they should give restricted donations to limit use of funds for campus sexual assault prevention and response programmes. If a school is not serving survivors well, alumni can also withhold donations individually or through orchestrated boycotts to get institutions to develop programs and hire leaders committed to addressing sexual violence on campus.
7. Fraternities and Football teams in U.S. universities have a reputation for sexist, sometimes misogynistic, behaviour and there have been many high profile cases of rape and sexual assault committed by fraternity members and athletes. Many people see these institutions as part of Rape Culture and a symbol of male entitlement. What do you think can and needs to be done to reach out to members of fraternities and male sports teams to get them to change their toxic attitudes and behaviour towards women?
The reality is that gender-segregated Greek organisations are a remnant of a sexist past that has no relevance in the present. As a former college athlete, I likewise believe gender-segregated teams may become irrelevant over time. By ending gender-segregated spaces a lot of issues could be solved given the norms of gender equality that could cultivate. Until then, it is clear that male-only spaces can become hotbeds of rape culture and perpetration unless there is a strong internal commitment to promoting norms around healthy masculinity and sexual respect.
Male leadership is required in such spaces to develop positive norms and society needs to reinforce those norms with accountability for any member of a fraternity or male sports teams that commits violence against women.
8. Tell us about SurvJustice's plans for the future. What campaigns, services, programmes or projects do you have coming up in the next 5 years?
In the next five years, SurvJustice will scale the organisation to open branches in other states and train attorneys for placement in select state coalitions. This will increase our ability to provide legal services to victims across the country.
SurvJustice will also expand our institutional trainings to improve how law enforcement investigates and prosecutes campus sexual violence and continue to expand our existing trainings for attorneys on how to represent survivors in campus hearings.
Eventually, SurvJustice would like to change legal education within the U.S. to ensure victim rights is taught in criminal and education law courses to make it normative knowledge for lawyers.
9. How can The Pixel Project's supporters, fans, and followers support SurvJustice's efforts to assist survivors and stop violence against women?
Everyone can spread the word about SurvJustice via social media and within their local communities by word of mouth to help alert survivors of campus sexual violence to our services and to encourage educational institutions to demand our trainings to improve how they address and prevent campus sexual violence.
Supporters should join our newsletter via our website, www.survjustice.org and should consider becoming monthly sustainer donors at $20 a month to help us continue providing ongoing pro bono (free) and low bono (discounted) legal services to survivors across the U.S.
10. In your considered opinion, how can we end violence against women for good?
SurvJustice's theory of change is that violence against women is so epidemic because there is a historical lack of meaningful consequences, socially and through formal legal systems, for those who engage in it.
The law can curb societal acceptance of discrimination, harassment and violence against women when it is yielded correctly, therefore SurvJustice works to provide survivors with expert victim rights attorneys to assist them in campus, criminal and civil legal systems so we can work to hold perpetrators and enablers accountable for sexual violence. Through changing systems of justice, we can change societal acceptance and ultimately work to end violence against women.