Welcome to the second part of our interview with Kim Wells, feminist writer and owner of DayDream Dandelions Press. While not all her writing has as an overt feminist message, she puts for the woman's perspective in her writing. She does enjoy the label: Social Justice Warrior. encouraging people to bring it on. You can read the first part of her interview here. All pictures courtesy of Kim Wells. ________________________________________________________________________________________________________________________________________________________________________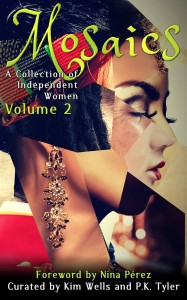 6. You have been a writer and editor for a long time. When did you decide to use your writing and storytelling skills as a tool to bring feminist issues (including violence against women) to the fore?
Always. It has always been a part of my passion for writing. Even my earliest story that I can remember was about homelessness. Yeah, it was a silly story that had all kinds of plot holes in it, but it was about the intensely personal level of politics that I had already experienced, and needed to express.
It was when I was in college that I really came out as an advocate for feminism and political revolution. I knew that my own life had these issues but it took college for me to know how to express it. For example, my mother's boyfriend used to abuse her and it was only when my fear-nothing 13-year-old self stood face to face with him, all 300 pounds of Angry Man, and told him to "leave her alone" that she became scared and left him. So I clearly have a history of taking on causes bigger than me where this comes in.
Then later I took courses on minority literature and Native American history and all of those intersections came together as what I wanted to do with my life. Work to change the bullies that are standing in front of us, staring us down, clenching fists in impotent rage while we say "Enough."
7. Some readers and authors are leery of (or even outright object to) "message fiction", contending that authors should not have an ulterior motive or consciously include social justice themes in their work. What is your take on that?
They have that right. There is no reason they have to write or read the same things that I find nourishment in. There is plenty of escapist and other types of works out there. Sometimes people need that escape, need to just use fiction as a way of decompressing from life, and they want to read about fairies and werewolves and not interact with the real world at all. That is really okay!
However: what they might find that surprises them is that even in our clearly "message fiction" anthologies, there are really good stories that are not preaching at them and are not heavy handed in theme. They are cool stories that just happen to make you realise the impact of certain kinds of experiences, if you want to think about it. Someone reviewed one of our stories, a rethinking of the Rumplestiltskin myth from the woman's perspective, and said: "Wow. I never even thought of that story from that angle before." But it is not an in-your-face kind of feminist message. Just by telling that side of the story in an entertaining fashion, social justice is served.
8. Will DayDreams Dandelions Press only publish women writers or will you also be publishing male authours in the future?
I really wanted Volume 3 to be a male and gender-fluid anthology of people discussing power and intersectionality from that lens. I do not think that it is going to happen at this time. Despite the success of Volumes 1 and 2, demand is not yet high enough to publish a third anthology. In order to continue to publish these anthologies as a not-for-profit concept, we need to balance demand with expenses. We hope to revisit the idea of doing more in the future.
9. How and why should The Pixel Project's supporters engage with and support DayDreams Dandelions Press and other feminist publishers, authours, and work?
This speaks directly to the point in question 8: put your money where your activism is. It is an important step to be aware, to speak out against injustice and social issues. But if all you are doing is sharing a link or two, and getting into arguments on social networking sites, it is not enough to keep people who are trying to do this work going. Even just a dollar to buy an e-book anthology which you then get to read 20+ stories, less than what you spend on a coffee, is going to go a long way to supporting feminist activism.
When publishers like me can keep paying authors to keep writing, then you are doing a tonne to help support every one of them. While some of our authors do not need the money we paid them, but for some, it was a bill paid, a meal bought, and it is in supporting writers that you get to read more of their work. Virginia Woolf was right: for a woman writer to write, she needs 500 pound sterling and room of her own. Which translates as financial stability and private quiet time. Buy their work, donate to the cause, and we will keep writing.
10. In your considered opinion, how can we end violence against women for good?
The only way it will ever really end is for women to be perceived as real. Not as objects to be bought and sold, possessions to be given or taken or sexually experienced without permission. Women have to have control of themselves, and be advocates for their own humanity. Financial security sure does come in handy for that, and for that, we need education, and opportunity, and awareness that it is still an issue.
We ALL have to take action. We cannot just sit back and let other people make the arguments. Even when it is not our argument, we have to support those activists who are doing the daily work.