This month's Inspirational Interview is with Kim Wells, feminist writer and owner of DayDream Dandelions Press.
Kim has a Ph.D. in Literature, with specialties in American Lit, Women Writers, Feminism. She published and edited the independent, award-winning Women Writers' zine' for over 10 years, where she did book reviews, poetry, fiction, author interviews, articles and scholarship. She wrote her first critically acclaimed (if you call her fourth grade teacher a critic, and she does) short story when she was 9 years old. It was about Christmas in a cave, and it featured such topical, ground-breaking subjects as homelessness & cave dwelling. Her first novel, Mariposa, came out in December, 2014 and many more stories are in the works. Kim is also a long-time supporter of The Pixel Project and proceeds from the first two books published by her small press, DayDreams Dandelions Press, will be going to The Pixel Project. You can find Kim on Facebook, Twitter – @dandeliondreasm and Pinterest.
The second part of her interview will be published Monday, June 27, 2016.
All pictures courtesy of Kim Wells.
__________________________________________________________________________________________________________________________________________________________________________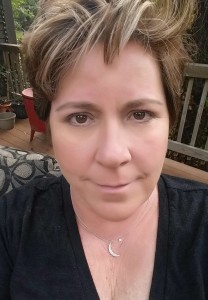 1. Tell us about DayDreams Dandelions Press. What inspired you to start Daydreams Dandelions Press and what makes Daydreams Dandelions Press unique?
I have been publishing women writers on the internet since 1998, but it was all web-based. When I started DayDreams Dandelions press, it was after looking at some of the successful anthologies from indie publishing that were out there and thinking I wanted to publish something similar, but specifically featuring women. That went hand in hand with doing intersectional feminism, because feminism needs to change and grow, and acknowledge the differences in struggle for everyone involved before it can do that.
What makes us different from a lot of other small presses (especially the ones with a political touch) is that we went ahead and paid our authors on publication day. A lot of small presses simply cannot invest that kind of incentive, and a lot of them are "exposure only." But the time I had on the web helped me learn that if you want high quality, it helps to pay for it. And it felt like a feminist necessity to pay, also. We are also not making any profit. Anything we make past cost is going to charity. I have not seen anyone else doing that.
2. DayDreams Dandelions Press published two volumes of short story collections (MOSAICS: A COLLECTION OF INDEPENDENT WOMEN, Volumes 1 and 2) featuring stories from upcoming and established female Indie authours. Why did Daydreams Dandelions Press decide to begin by publishing the two short story collections instead of other formats such as novels or poetry chapbooks or a magazine?
I wanted a very diverse group of voices for the initial publications. That meant short stories, at least, so we could include people from all walks of life and geographical regions, etc. We ended up being incredibly intersectional—people from all over the world, from various races, religions, economic class, gender identifications, disability statuses, ages, and more. Some of the writers are well-established, and have been in the running for major literary awards; but for some of them, this was their first ever publication.
I really wanted an anthology that included fiction, poetry, art, and non-fiction, in the spirit of the publications that people did in the 1970's that mixed media all over the place. It was a nod to those often small run self-published on a copy machine types of activism of Second Wave feminism, in a very Third (or beyond) way with indie publishing's engines. Initially we were only going to do one anthology—which means about 20 writers. But we got over 500 submissions, and read every one of them, and I was just in love with too many to fit into one. So I made the leap and said "let's at least do two." I was hoping to use the rest for upcoming volumes, keep the movement going, as well.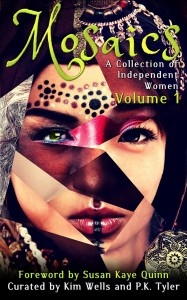 3. Tell us about MOSAICS –what are the main themes that unite the stories and how were they selected?
The biggest theme is simply women's lived experiences. Even if it is a sci fi story or takes place in a fictional past fairy tale, it is about the lives that women lead. This is exemplified in the promo art—there is everything from pre-birth to the afterlife represented. Beyond that simple definition, the themes that we found repeating were mother-daughter relationships, coming-of-age stories, and self-discovery.
We selected the stories by reading at a fantastically fast pace in January and February of 2016. Pavarti Tyler and I went through this elaborate spreadsheet where we would note when we read a story, what we thought of how it fit our goals, and whether it should get more attention. Then the first round of chosen stories would be placed in a second spreadsheet of "maybe" and we would figure out if we thought there was a need for more work on it (some of the stories went through pretty intense edits, even after selection.) It helped that we got a fair amount of poetry and short flash fiction since those were quick to read. Not many people took the upper word limit or we would never have been able to finish.
4. Why did DayDreams Dandelions Press decide to donate proceeds from MOSAICS 1 and MOSAICS 2 to The Pixel Project to support our anti-Violence Against Women work?
I have been following The Pixel Project since its beginning, and I wanted the money to go to some kind of advocacy for women. I am not in the publishing game to make money.
I come from a very low income, single mom background, from generations of single, independent women. What draws me to this cause is the history in my family of domestic violence, disability, and gender-fluidity. So it seemed right to use the anthologies as a way not only to raise awareness of the vast numbers of people who have these experiences, but to pay forward the help I have received over the years.
5. The Pixel Project works with authours via our Read For Pixels campaign and what often comes up in discussion is the power of stories and storytelling. How do you think storytelling and stories can help advance women's human rights issues including ending violence against women?
I have been pretty amazed at the community that has grown around these anthologies. Because of these stories, people have met in through social networking in this shared community and shared their stories over and over again. They have also connected outside of our group for personal meetings, and sometimes become aware of a new type of issue that they had not known before. It is like the "click moment" of early feminism: people realised, in a sudden moment, that their experiences are not to them only – they are not alone; there are hundreds of people out there in our group alone who are with them.
That solidarity is hugely important in any movement to change the oppression in our world. Start small with one or two stories and you can change things.