This month's Inspirational Interview is with Jasmeen Patheja of Blank Noise
Jasmeen Patheja is a Bangalore-based TED and Ashoka Fellow and the founder and facilitator of Blank Noise – a global community of 'Action Heroes' united to eradicate sexual and gender based violence by building testimonials of sexual violence, creating projects to tackle fear, build trust and empathy. Action Heroes are citizens and individuals who step into their role to build a safe space. Patheja has led and mobilised Action Heroes since 2003 through a range of participatory projects at Blank Noise. All projects at Blank Noise are built and shaped by its participating Action Heroes. Action Heroes are across gender and sexuality. Age group varies from 16 – 65 years. Applications for volunteering have been received from over sixty cities and towns globally.
Patheja's practice ranges across media including performance, video and live action, sound, photography, installation, t shirts, posters, stencil- graffitti. Patheja's has exhibited work at Bronx Museum of Arts( NYC) , Chiyoda 3331 (Tokyo) , Cornerhouse (Manchester), Akademie Schloss Solitude (Germany),Max Mueller Bhavan (Bangalore). She was awarded the International Award For Public Art in Auckland, in 2015, for the project. "Talk To Me ", Blank Noise. In 2012 Patheja was awarded the Citizen Journalist Award by CNN IBN.
The second part of her interview will published on December 28th
All pictures courtesy of Jasmeen Patheja and Blank Noise.
________________________________________________________________________________________________________________________________________________________________________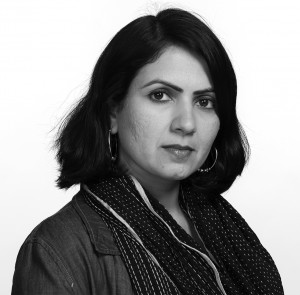 1. How did you come to work in the movement to end violence against women?
I can't remember a time when everyday sexism did not affect me. It never went unnoticed or ignored.
Experiences of street harassment at a time when I was away from home and family triggered the start of my work in the movement. I was 23 years old. It was during a time when street harassment was being dismissed as 'just teasing' and I was confronted by the silence and denial around the issue. I was also a graduating arts student then with questions about how art could be built by community participation; how art could heal, confront, protest.
2. What inspired you to launch Blank Noise in 2003?
I was in my final year at Srishti Institute Of Art Design and Technology. I had just completed a year-long course at Srishti that looked at Communication For Social Change. This year- long lab at Srishti prepared me to think critically. It did not equip me with ideas and strategies but informed me, through both classroom and practice, that social change was a messy, non linear, collaborative process. The experiences of street harassment, the denial around it, a climate of varying degrees of sexism, the course focusing on communication for social change, and my interest in feminist art practice all combined together to lead me to initiating Blank Noise.
The first three months at Blank Noise were a series of workshops with nine Action Heroes who were all first year students at Srishti. It was a process of conscience raising and exchange. This informed the next steps and phase at Blank Noise. Our primary focus then was to start a conversation, to call it what it is, to know it from outside of only our own experiences.
3. Could you tell us about the services that Blank Noise provides to tackle gender based violence and build safe spaces in India?
Our core work is about building collective ownership of sexual and gender based violence. We work towards attitudinal change through a series of participatory projects and campaigns. We also create workshops, focussed discussion groups with colleges, schools ,work spaces and other organisations. We also form a support group , a space of dialogue building and insight making.
Services are emerging, arising through new needs identified. We are sometimes contacted when individuals seek legal support, hence , we are compiling a list of legal resources that could be a formal organisational association. We were registered as a non profit three weeks ago and we are now slowly committing to emerging service needs as well.
4. Blank Noise has created various campaigns to fight street harassment and gender based violence, including the Museum of Street Weapons which began in 2008, The Make your Street Sign initiative in May 2009, and all of which use art and other multi-media installments. When it comes to discussion VAW, what is art capable of that the written word isn't? (http://blog.blanknoise.org/2007/09/interventions-and-techniques.html)
Blank Noise is rooted in community and public arts practice – Art can be in the written word and Art can be experienced too. In the case of Blank Noise, the Art does not exist without participation. We do not exist without our Action Heroes; – the individuals stepping in to participate, build dialogue, create action. At Blank Noise we work across forms of media ranging across posters, voice/audio, text, and installation. Performance and live action have been at the core Blank Noise. This is because we are working to deal with fear, respond to sexual violence, take agency, and become 'Action Heroes'. Performance and live action calls for the individual to occupy position as 'Action Hero'. The body is the medium and message.
Our bodies have felt risk, threat, fear. Our bodies learn to crouch, walk arms folded. frown lines on the face. Performance creates new memory for the participating body. When we 'Meet To Sleep ' in public parks, or learn to lean back on city railings, or learn to connect with a stranger via Talk To Me, it is directly experienced and lived through by the body. When we intervene in a place with our very own bodies, we shift both the nature of the place and the self – being an 'Action Hero' calls for us to intervene in both.
To respond to your question about word and art, I would break it down into message. Message that is told, and message that is informed through experience. For instance, we cannot talk about trust. It is one thing to say, and we will say, that we need to move to a place of trust instead of defence. However, in art, we have to arrive at it, experience it. The project " Talk To Me" or " Meet To Sleep" does that. It starts a conversation on trust , because when Action Heroes enter the project, they experience it for themselves. Performance is the only option. We perform our 'Action Hero' selves; anyone willing to take agency to build a safe space.
5. In your 2013 Ignite Talk you discuss issues of blame. One of your goals for the "I Never Ask For It Project" is to have women "address, arrest and reject blame." You also use the Reporting to Remember project as a pledge to not forget incidents of sexual violence that have been justified by authorities. How and why is Blank Noise making street harassment and gender based violence a community issue as opposed to a women's issue?
I Never Ask For It is the core project to address and arrest victim-blaming. It hosts the Clothes campaign and Reporting To Remember. While Blank Noise started in response to street harassment, INAFI brings us to look at the inter connectedness of spaces of violence; that victim blame permeates across spaces.
Violence experienced by women and individuals is a societal issue and calls for stepping in to take collective ownership and responsibility. It is a community issue because the attitudes that inform the act and the discourse after the act are created by communities, publics, societies. When sexual violence is justified and excused by society, it is perpetuated. There really are countless instances of sexual and gender based violence globally that justify it through victim-blaming. This informs "I Never Ask For It". A safe space is where listeners, bystanders, witnesses do not question the survivor of violence, nor judge.