The Pixel Project is proud to present our second annual Survivor Stories Blog Interview Project in honour of Mother's Day 2015. The project runs throughout the month of May 2015 and features an interview per day with a survivor of any form of violence against women (VAW) including domestic violence, rape, sexual assault, female genital mutilation, forced/child marriage, sex trafficking, breast ironing etc. A total of 31 VAW survivor stories will be featured. This project was created to provide:
VAW survivors a platform to share their stories and solutions/ideas on how they rebuilt their lives and healed/are healing.
Girls and women currently experiencing or who have survived VAW ideas, hope, and inspiration to escape the violence and know that there is light at the tunnel and there is help out there.
This project is also part of a programme of initiatives held throughout 2015 in support of the Celebrity Male Role Model Pixel Reveal campaign that is in benefit of the National Coalition Against Domestic Violence and The Pixel Project. Donate at just US$1 per pixel to reveal the mystery Celebrity Male Role Models and help raise US$1 million for the cause while raising awareness about the important role men and boys play in ending violence against women in their communities worldwide. Donations begin at just US$10 and you can donate via the Pixel Reveal website here or the Pixel Reveal Razoo donation page here.
Our twenty-sixth 2015 Survivor Stories interview is with Alice Argosino from the U.S.A.
TRIGGER WARNING: The first two Q&As in this interview may be distressing for some Domestic Violence survivors.
———————————————————————————————————————————————————————————
The Survivor Bio:
I am Alice and I am, by profession, a fitness professional. I am a mother of 4 girls aged 13, 9, 6, and 5. We are survivors of domestic violence. We have been Domestic Violence-free for 14 months and have endured degradation, humiliation and shunning from family and friends. We are strong, we are bright, and we are beautiful; surrounding ourselves with only those that will treat us with kindness and understanding. We have had our lives turned upside down by lethal violence and gender-based hatred but have climbed our way out of the dank abyss and stand proud of who we are and where we have come from.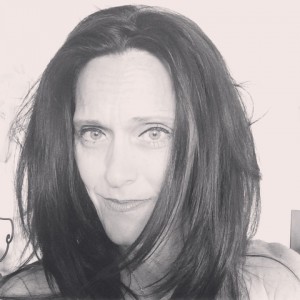 1. What is your personal experience with gender-based violence?
My daughters and I experienced domestic violence in varying forms. As the female partner, I was strangled, kicked, thrown, held hostage, hit, kept awake, and restrained. I was verbally and emotionally abused as well as fiscally abused.
My children, all under the age of 12, were called "stupid", "fat bitches", "whores", "idiots", and "pigs". They also experienced physical violence as well as emotional abuse.
2. How did you escape the violent situation/relationship/ritual?
After a particularly challenging day when my abuser beat me with the Christmas tree, kicked me, called me a whore, and continued to demean my person – all in front of my children – I filed for a protection order. He was served and removed from our home several days later.
Through the grace of God and savvy professionals, and after a court-appointed investigation, a full domestic violence protection order was issued.
3. How did you heal and rebuild your life after the violent situation/relationship/ritual? What actions did you take?
I had become involved with our local domestic violence advocacy programme and through the kindness and support of my advocate, I was able to enroll in counselling for myself and my children.
We were put in touch with a pro-bono attorneys group to help with any legal issues. We moved to a new home and were enlisted in our state's address confidentiality programme. I utilised the National Domestic Violence Hotline as well as our local hotline for those moments when I felt lost and unsure. I reached out for help and was fortunate to receive it.
I have shared my story with others and I will be speaking to schools about domestic violence. I have volunteered for our local police department's victim advocacy program. I am healing by helping others.
4. What would you suggest to or share with another woman or girl facing the same situation as you did?
I would recommend to anyone in a similar situation to seek help through a hotline or a local advocacy program. Document the abuse if able and strategise: plan your escape or their removal. Reach out to family and/or friends. You are not alone. There is an immense support system throughout that will stand by your side and help you through domestic violence. Brace yourself for those that turn their backs. They never were your friends.
Surround yourself with positivity and love yourself. Be kind to yourself and be forgiving to yourself. You are valuable, you are beautiful, and you are strong.
5. How do you think we can end violence against women?
Violence against women may end through education. Teach the young about respect and love. Publicise and ostracises the men that degrade and violate women. Sharing stories and experiences internationally, developing a wide net of support for victims and survivors. These are just a few solutions to a complex and under-recognised societal issue that deserves to be in the forefront of all rather than casting it aside as a private matter between man and woman.
6. Why do you support The Pixel Project?
As they say, "Knowledge is power." The Pixel Project is helping to bring these "behind closed doors"issues to the forefront, raising awareness and developing dialogue. Conversation is vital for recognition to any cause or issue. Allowing victims to speak is a unique and special gift you have given not only for those that have suffered violence but for those that are unfamiliar with violence.
Unfortunately, there are a great deal of stereotypes and biases against women who suffer from domestic violence. Educating society as a whole is an enormous task in its entirety but great strides are being made to whittle the ignorance gap. The Pixel Project's Survivor Stories platform is giving a voice to those that may not have the strength to do so in person. The Pixel Project's mission will help save others and that is invaluable.