Welcome to The Pixel Project's "30 For 30″ Father's Day Campaign 2013! In honour of Father's Day, we created this campaign:
To acknowledge the vital role Dads play in families, cultures and communities worldwide.
To showcase good men from different walks of life who are fabulous positive non-violent male role models.
Through this campaign, we will be publishing a short interview with a different Dad on each day of the month of June.
Our thirtieth and final "30 For 30″ 2013 Dad is Chris Kinsey from the United States.
__________________________________________________________________________________________
The Dad Bio
The final Dad in our series is Chris Kinsey from the USA. Chris is an aircraft assembler by trade and a musician by hobby. He is married to Barbara Kinsey (a longtime Pixel Project volunteer), and is the father of two wonderful boys, Gunter and Trenton. Gunter is 13 this year, and the influences of teaching him how to treat women with proper respect is already showing. Chris mat met Barbara through a "friend" and has been married for 13 years. He considers her his best friend and looks forward to a lifetime together of adventure and love. He says: "While I already had a strong sense of treating women with respect, I learned a lot from Barbara about how mistreatment affects women by seeing how her first husband mistreated her. I have actively encouraged her to tell her story and I support activities to stop violence against women. "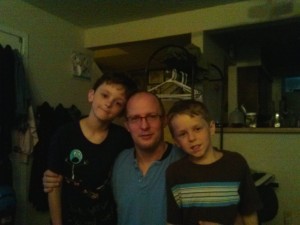 1. What is the best thing about being a dad?
The best thing about being a father is looking into my son's eyes (either one) when I am spending time with them doing their favorite activity (such as gaming). The genuine excitement and the love that shines through is worth every moment of lack of sleep, lateness, etc., which comes with the territory of being a parent.
2. A dad is usually the first male role model in a person's life and fathers do have a significant impact on their sons' attitude towards women and girls. How has your father influenced the way you see and treat women and girls?
My father's habits were to pick terrible women and not treat them well. This influenced me to become a better father, husband, man, by treating the women/girls in my life with respect, love and honesty. Though I have not always been the best at it, I strive to improve every day. Additionally, I work hard to teach my boys how to treat their mother and other women/girls in their lives.
3. Communities and activists worldwide are starting to recognise that violence against women is not a "women's issue" but a human rights issue and that men play a role in stopping the violence. How do you think fathers and other male role models can help get young men and boys to take an interest in and step up to help prevent and stop violence against women?
There are two ways that father and other male role models can help young men take an interest in ending violence against women. First, teach them the right and wrong ways of treating women. The second is by leading by example. I have worked diligently to teach my boys and others the right and wrong ways to treat a woman. I exhibit these behaviors no matter where I am or who I am with. The best example I have is when I open the door for Barbara. Both of our boys, Gunter and Trenton, have developed a desire to open the door for their mother as well, seeing me model respectful behavior. I also teach and model respectful and equal behavior with a friend's child (single mother), I act as a role model in her son's life by setting firm rules about how to treat his mother and other women.
————————————————————————
Want to honour your Dad in a different way this Father's Day without breaking the bank?
We offer two (2) easy and fabulous options:
Option A: Make a Small Donation
Help The Pixel Project keep our anti-Violence Against Women campaigns and projects sustainable by making a small donation on behalf of your dad to us.
Click here to learn how your donation will be used and to donate: https://www.thepixelproject.net/getting-involved-an-introduction/donate-to-the-pixel-project/

Option B: Dedicate a Song to Him
For just $0.99, you can download our first Music For Pixels song – a cover of 'The Rose' by AHMIR, YouTube's #1 R&B group and upload it onto your Dad's computer's iTunes or digital music player. Not sure about it? Listen before you buy: