Welcome to The Pixel Project's "30 For 30″ Father's Day Campaign 2013! In honour of Father's Day, we created this campaign:
To acknowledge the vital role Dads play in families, cultures and communities worldwide.
To showcase good men from different walks of life who are fabulous positive non-violent male role models.
Through this campaign, we will be publishing a short interview with a different Dad on each day of the month of June.
Our twenty-eighth"30 For 30″ 2013 Dad is Jim Flom from Canada.
__________________________________________________________________________________________
The Dad Bio
Formerly in pastoral ministry, Jim Flom has recently made a change to law enforcement. He is married and the father of three girls and a boy, all young adults now. As Jim states, he was born the day the space age began and grew up happy and confident. His parent's divorce changed his life and propelled him into Christianity for a spiritual center and Outward Bound for empowerment. Instead of repeating wounded familial patterns, he was challenged to make his marriage different.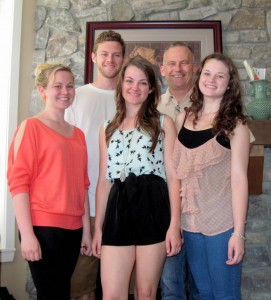 1. What is the best thing about being a dad?
The best thing about being a dad is seeing my children excel at the things they love. For one, it might be sky-diving; for another, singing, cheerleading, acting, or music. I love to see myself in them and to have them confide in me and share their struggles.
2. A dad is usually the first male role model in a person's life and fathers do have a significant impact on their sons' attitude towards women and girls. How has your father influenced the way you see and treat women and girls?
My father was a civil rights activist before it was popular. As a commanding officer for an all African-American company during World War II, he experienced institutionalized racism first hand. He returned to Minnesota and fought to integrate his fraternity. Afterwards, he served two terms as a state legislator and actively advocated for equal rights. My father's example led me to have a strong social justice conscience, which ultimately cost me my career as a pastor when I stood with an exploited woman against the powerful. I wish for my wife and daughters the same empowerment I advocate for anyone.
3. Communities and activists worldwide are starting to recognise that violence against women is not a "women's issue" but a human rights issue and that men play a role in stopping the violence. How do you think fathers and other male role models can help get young men and boys to take an interest in and step up to help prevent and stop violence against women?
Men help prevent violence against women by leading by example. Children watch closely and see how their dads treat their mothers, how they speak about women. By staying informed about issues, voting regularly, and participating in public life, men demonstrate their interest in justice and equality, but the rubber meets the road in the home, workplace, and in the public square. I take on this responsibility by making sure that my staff know that I will back them 100% in situations involving disrespect, sexism, racism arise.
————————————————————————
Want to honour your Dad in a different way this Father's Day without breaking the bank?
We offer two (2) easy and fabulous options:
Option A: Make a Small Donation
Help The Pixel Project keep our anti-Violence Against Women campaigns and projects sustainable by making a small donation on behalf of your dad to us.
Click here to learn how your donation will be used and to donate: https://www.thepixelproject.net/getting-involved-an-introduction/donate-to-the-pixel-project/

Option B: Dedicate a Song to Him
For just $0.99, you can download our first Music For Pixels song – a cover of 'The Rose' by AHMIR, YouTube's #1 R&B group and upload it onto your Dad's computer's iTunes or digital music player. Not sure about it? Listen before you buy: