Welcome to The Pixel Project's "30 For 30″ Father's Day Campaign 2013! In honour of Father's Day, we created this campaign:
To acknowledge the vital role Dads play in families, cultures and communities worldwide.
To showcase good men from different walks of life who are fabulous positive non-violent male role models.
Through this campaign, we will be publishing a short interview with a different Dad on each day of the month of June.
Our twenty-seventh "30 For 30″ 2013 Dad is Andrew Jones from Canada.
__________________________________________________________________________________________
The Dad Bio
Andrew Jones currently lives in Northern Alberta with his amazing wife Sarah and their three children. In addition to spending time with his family Andrew owns Checkered Owl Media (www.checkeredowl.com) and is very active in his church. This makes for a very full, busy life, but one full of adventure and laughter.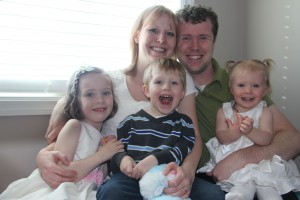 1. What is the best thing about being a dad?
To me the best part of being a dad is watching my children grow up into themselves. To get to shape another human life and to teach them about the world is an enormous gift and responsibility!
2. A dad is usually the first male role model in a person's life and fathers do have a significant impact on their sons' attitude towards women and girls. How has your father influenced the way you see and treat women and girls?
My dad has taught me that a man is someone who cares for and puts his own needs after his family's. He has taught me to respect God, and the people he creates. He taught me that girls are people to be respected and cherished. These are values I bring into my family and try to impart to my children, especially my son.
3. Communities and activists worldwide are starting to recognise that violence against women is not a "women's issue" but a human rights issue and that men play a role in stopping the violence. How do you think fathers and other male role models can help get young men and boys to take an interest in and step up to help prevent and stop violence against women?
The best means to encourage young men and boy to take an interest in preventing violence against women is by teaching them and modeling respectful behavior. I also feel we need to teach young girls and women that they are worth more than they can ever imagine and that they will always have people who love and respect them and they should expect nothing less. I believe that we should teach our boys that women are a beautiful blessing to our lives and the world. Modeling respectful behavior is one of the most effective means, treating our wives and the women in our lives with the utmost respect and love, and offering ourselves to serve them. That shows how a man behaves toward women, that a man respects and cares for women.
————————————————————————
Want to honour your Dad in a different way this Father's Day without breaking the bank?
We offer two (2) easy and fabulous options:
Option A: Make a Small Donation
Help The Pixel Project keep our anti-Violence Against Women campaigns and projects sustainable by making a small donation on behalf of your dad to us.
Click here to learn how your donation will be used and to donate: https://www.thepixelproject.net/getting-involved-an-introduction/donate-to-the-pixel-project/

Option B: Dedicate a Song to Him
For just $0.99, you can download our first Music For Pixels song – a cover of 'The Rose' by AHMIR, YouTube's #1 R&B group and upload it onto your Dad's computer's iTunes or digital music player. Not sure about it? Listen before you buy: