Welcome to The Pixel Project's "30 For 30″ Father's Day Campaign 2013! In honour of Father's Day, we created this campaign:
To acknowledge the vital role Dads play in families, cultures and communities worldwide.
To showcase good men from different walks of life who are fabulous positive non-violent male role models.
Through this campaign, we will be publishing a short interview with a different Dad on each day of the month of June.
Our twenty-fifth "30 For 30″ 2013 Dad is David Reeves-Oxford from the United Kingdom.
__________________________________________________________________________________________
The Dad Bio
David Reeves-Oxford from the UK is an artist for Microsoft and runs a photography business. He recently became a father to a son, Felix. David states, "I feel I have had a fortunate and free-thinking upbringing through which I always enjoyed creative pursuits. I have a wonderful career, family and believe myself to be incredibly lucky to have a son who, to me, is perfect."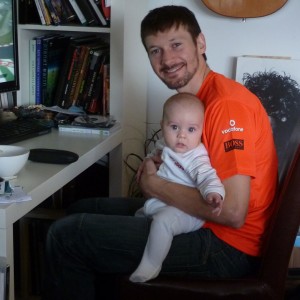 1. What is the best thing about being a dad?
The best thing about being a Dad is feeling love for someone like you didn't know you could. Appreciating the little things in life that you do with your baby, just making them smile makes your whole day better. Giving your life a new sense of perspective as your mind opens to the new amazing world of being a parent.
2. A dad is usually the first male role model in a person's life and fathers do have a significant impact on their sons' attitude towards women and girls. How has your father influenced the way you see and treat women and girls?
My father was my first role model. He grew up in a more modern world where there was little inequality, so I'm fortunate enough to be born into a good upbringing. I played with groups of friends as a boy, some of which were girls and we were all the same. I feel from those experiences I was raised with a due respect toward and a modern view of women in society.
3. Communities and activists worldwide are starting to recognise that violence against women is not a "women's issue" but a human rights issue and that men play a role in stopping the violence. How do you think fathers and other male role models can help get young men and boys to take an interest in and step up to help prevent and stop violence against women?
I feel that fathers and male role models start our young men and boys off with good parenting and upbringing. As my parents gave me the right education, I didn't have to think about it, it as part of our upbringing. I endeavour as a father to do the same for my son. The media also have a responsibility to forward equality and respect toward women. I was at a recent concert and saw how powerful music and male role models within the music industry could also be far reaching.
————————————————————————
Want to honour your Dad in a different way this Father's Day without breaking the bank?
We offer two (2) easy and fabulous options:
Option A: Make a Small Donation
Help The Pixel Project keep our anti-Violence Against Women campaigns and projects sustainable by making a small donation on behalf of your dad to us.
Click here to learn how your donation will be used and to donate: https://www.thepixelproject.net/getting-involved-an-introduction/donate-to-the-pixel-project/

Option B: Dedicate a Song to Him
For just $0.99, you can download our first Music For Pixels song – a cover of 'The Rose' by AHMIR, YouTube's #1 R&B group and upload it onto your Dad's computer's iTunes or digital music player. Not sure about it? Listen before you buy: