Welcome to The Pixel Project's "30 For 30″ Father's Day Campaign 2013! In honour of Father's Day, we created this campaign:
To acknowledge the vital role Dads play in families, cultures and communities worldwide.
To showcase good men from different walks of life who are fabulous positive non-violent male role models.
Through this campaign, we will be publishing a short interview with a different Dad on each day of the month of June.
Our twenty-fourth "30 For 30″ 2013 Dad is Kid Chan from Malaysia.
__________________________________________________________________________________________
The Dad Bio
Kid Chan is an entrepreneur, an international celebrity photographer and best selling author of Kid Chan's Guide To the Business of Photography. He is best known for his corporate and family portraits and celebrity wedding. Kid is the only Asian photographer to be listed on the Conde Nast's Brides of UK as on of the 20 extremely talented destination wedding photographers of the world. He is also listed on Tatler's "100 People You Must Know in Asia." He is married to Shirlyn with 2 lovely daughters, Faith and Adira with Joshua Aquila on the way. More information about Kid can be found on his Facebook site or on his Wiki.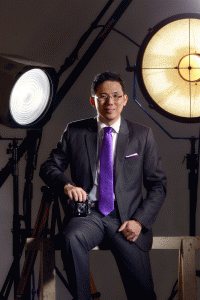 1. What is the best thing about being a dad?
Children are gifts from God. They are also the fruit of our love with our partners, and it is so interesting to watch a new being grow and develop that is part yourself and part your partner. Having children also changes the way you look at life and the world, and then you. While in the past you may just strive for your own life and goals, now you begin to live your life for someone else. They also bring us so much joy, beyond imagination.
2. A dad is usually the first male role model in a person's life and fathers do have a significant impact on their sons' attitude towards women and girls. How has your father influenced the way you see and treat women and girls?
My dad was a rather reserved man, a man of action rather than words. He loved my mum and took good care of her until their divorce due to financial pressures. Today they still remain friends. His influence on me was that you take care of your partner, and even in separation, remain respectful.
3. Communities and activists worldwide are starting to recognise that violence against women is not a "women's issue" but a human rights issue and that men play a role in stopping the violence. How do you think fathers and other male role models can help get young men and boys to take an interest in and step up to help prevent and stop violence against women?
Action is much louder and more effective than words. Talk and awareness is good but that is only the beginning, because what is going to change the situation is not the knowledge itself but what has been applied. People, especially young men and boy do not always hear what you say but they will watch what you do. So the most important thing for fathers and other male models is to lead a non-violent life and show respect toward women. In that we will have a very positive environment for change.
————————————————————————
Want to honour your Dad in a different way this Father's Day without breaking the bank?
We offer two (2) easy and fabulous options:
Option A: Make a Small Donation
Help The Pixel Project keep our anti-Violence Against Women campaigns and projects sustainable by making a small donation on behalf of your dad to us.
Click here to learn how your donation will be used and to donate: https://www.thepixelproject.net/getting-involved-an-introduction/donate-to-the-pixel-project/

Option B: Dedicate a Song to Him
For just $0.99, you can download our first Music For Pixels song – a cover of 'The Rose' by AHMIR, YouTube's #1 R&B group and upload it onto your Dad's computer's iTunes or digital music player. Not sure about it? Listen before you buy: