Welcome to The Pixel Project's "30 For 30″ Father's Day Campaign 2013! In honour of Father's Day, we created this campaign:
To acknowledge the vital role Dads play in families, cultures and communities worldwide.
To showcase good men from different walks of life who are fabulous positive non-violent male role models.
Through this campaign, we will be publishing a short interview with a different Dad on each day of the month of June.
Our twenty-third "30 For 30″ 2013 Dad is Andrew from the United Kingdom.
__________________________________________________________________________________________
The Dad Bio
Andrew is a father to Casper (four months old at publication), a husband, and the Client Services Director for a marketing agency. Andrew's main hobby is photography. With his wife, Andrew has recently set up www.yourbabyphotography.com which is a pregnancy, baby and family photography company. Andrew states, "We love capturing the dynamics of life within families."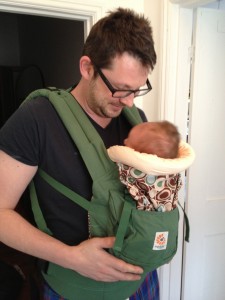 1. What is the best thing about being a dad?
The best thing about being a Dad is having a little person look up and smile at you, having a child who looks up and learns from you every moment. Someone who adores you, who relies on you. I particularly love it at the weekend when my son naps on my chest. I could watch him for hours.
2. A dad is usually the first male role model in a person's life and fathers do have a significant impact on their sons' attitude towards women and girls. How has your father influenced the way you see and treat women and girls?
My father was not a great role model, unfortunately. He was quite strict and not overly affectionate but seemed to have no malice towards women. I suppose we were brought up to respect others in general but I don't ever remember having a discussion about respecting females specifically. I do remember him being very argumentative with my mother though. Luckily I don't want to follow suit – I am breaking such patterns with my own family – everyone has a choice to be who they want to be.
3. Communities and activists worldwide are starting to recognise that violence against women is not a "women's issue" but a human rights issue and that men play a role in stopping the violence. How do you think fathers and other male role models can help get young men and boys to take an interest in and step up to help prevent and stop violence against women?
'Attachment parenting' is the description given to parents like my wife and I. To us it means trusting our instincts and our child, and having a loving and affectionate relationship with our son without using any 'training' methods. We don't believe in leaving children to cry – we respect his feelings in the hope that he will grow up knowing how to respect and comfort others. If we show our children how to love they are surely more likely to grow up to be well-rounded, caring and kind adults.
————————————————————————
Want to honour your Dad in a different way this Father's Day without breaking the bank?
We offer two (2) easy and fabulous options:
Option A: Make a Small Donation
Help The Pixel Project keep our anti-Violence Against Women campaigns and projects sustainable by making a small donation on behalf of your dad to us.
Click here to learn how your donation will be used and to donate: https://www.thepixelproject.net/getting-involved-an-introduction/donate-to-the-pixel-project/

Option B: Dedicate a Song to Him
For just $0.99, you can download our first Music For Pixels song – a cover of 'The Rose' by AHMIR, YouTube's #1 R&B group and upload it onto your Dad's computer's iTunes or digital music player. Not sure about it? Listen before you buy: