Welcome to The Pixel Project's "30 For 30″ Father's Day Campaign 2013! In honour of Father's Day, we created this campaign:
To acknowledge the vital role Dads play in families, cultures and communities worldwide.
To showcase good men from different walks of life who are fabulous positive non-violent male role models.
Through this campaign, we will be publishing a short interview with a different Dad on each day of the month of June.
Our fifteenth "30 For 30″ 2013 Dad is Yandisa Sikweyiya from the South Africa.
————————————————————————————-
The Dad Bio
Yandisa Sikweyiya is a father of a three year old girl. He is a researcher at the Gender and Health Research Unit of the South African Medical Research Council. He holds a Masters' degree (public health) from Umeå University, Sweden and a PhD (public health) from the University of the Witwatersrand, South Africa. In 2006, He was awarded a fellowship to study research ethics at the South African Research Ethics Training Initiative hosted by Universities of Pretoria and KwaZulu-Natal. He is a member of the University of Pretoria, Faculty of Health Sciences Ethics Committee and also a member of the South African Medical Research Council Ethics committee.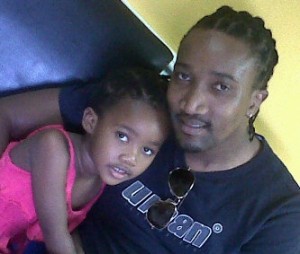 1. What is the best thing about being a dad?
Through being a dad I have a wonderful opportunity to love, nurture and care for someone who entirely looks up to me to provide these for her. It is a rewarding and spiritually fulfilling responsibility, one that I'm enjoying each and every minute of it. The time I spend with my daughter allows me to teach her about self-respect and respect for others. I think these values will go a long way in making her a good global citizen.
2. A dad is usually the first male role model in a person's life and fathers do have a significant impact on their sons' attitude towards women and girls. How has your father influenced the way you see and treat women and girls?
My father taught me to respect everyone without discriminating according to gender or sex. He has lived these values himself and I learned and modelled these from him. As such, in my own family, my wife and I do not recognise and or promote gender-roles. Furthermore, as a father to my child and husband to my wife, there is not a single thing I don't do in parenting my child and around the house. I don't view parenting and housework to be only a woman's responsibility.
3. Communities and activists worldwide are starting to recognise that violence against women is not a "women's issue" but a human rights issue and that men play a role in stopping the violence. How do you think fathers and other male role models can help get young men and boys to take an interest in and step up to help prevent and stop violence against women?
I think our responsibility as men, fathers and role models to young men and boys is to consistently promote gender-equitable views and attitudes which include respect for everyone. As fathers and male role models we need to recognise that we are integral role models to younger men and boys, especially in their formative years. As such how we act towards, how we view and the attitudes we exhibit towards women should be correct and gender-equitable at all times as our younger people will grow up learning these from us.
_____________________________________________________________
Want to honour your Dad in a different way this Father's Day without breaking the bank?
We offer two (2) easy and fabulous options:
Option A: Make a Small Donation
Help The Pixel Project keep our anti-Violence Against Women campaigns and projects sustainable by making a small donation on behalf of your dad to us.
Click here to learn how your donation will be used and to donate:https://www.thepixelproject.net/getting-involved-an-introduction/donate-to-the-pixel-project/
Option B: Dedicate a Song to Him
For just $0.99, you can download our first Music For Pixels song – a cover of 'The Rose' by AHMIR, YouTube's #1 R&B group and upload it onto your Dad's computer's iTunes or digital music player. Not sure about it? Listen before you buy: