Welcome to The Pixel Project's "30 For 30″ Father's Day Campaign 2013! In honour of Father's Day, we created this campaign:
To acknowledge the vital role Dads play in families, cultures and communities worldwide.
To showcase good men from different walks of life who are fabulous positive non-violent male role models.
Through this campaign, we will be publishing a short interview with a different Dad on each day of the month of June.
Our fourteenth "30 For 30″ 2013 Dad is Richard Schellenberg from the United States.
————————————————————————————-
The Dad Bio
Richard Schellenberg is a Technical Architect for the Virginia Department of Taxation and Co-Owner and Master Engineer of the Etching Tin, a music recording studio located in Richmond, Virginia, USA. Richard is a talented musician as well, currently playing in two bands. He became involved in supporting anti-violence work when he met and married his wife, Carol and combines his support of ending violence with his work in the recovery community. Richard is the proud father of a nineteen year-old son, Eli.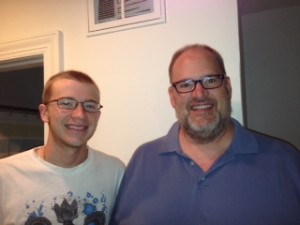 1. What is the best thing about being a dad?
Being a father is very fulfilling to watch your child grow up, from the first baby-steps to adulthood. I did not get to spend as much time with my son as I wanted to when he was younger. Now that he is living with us, it is a joy to see who he has become, both the things that are so very much like me and the things that are unique to him.
2. A dad is usually the first male role model in a person's life and fathers do have a significant impact on their sons' attitude towards women and girls. How has your father influenced the way you see and treat women and girls?
My father had a modern viewpoint on women during his time, although it might seem conservative by today's standards, and was considered progressive. He supported my mother's career interests and was probably more engaged in the house than most men of his era. I always saw him respect my mother and my sisters and so I grew up having that same respect. I try to instill this in my son, that one can be a better man and human being than is always modeled in media or society. My father always taught me to think beyond what is being presented and seek truth and fairness.
3. Communities and activists worldwide are starting to recognise that violence against women is not a "women's issue" but a human rights issue and that men play a role in stopping the violence. How do you think fathers and other male role models can help get young men and boys to take an interest in and step up to help prevent and stop violence against women?
It takes a lot of courage to speak up when the conversation turns misogynistic and to step up to steer the conversation and inform them that you don't tolerate that behavior or attitude. I try to model positive behavior and speak up against sexism and attitudes that accept violence against women when I hear comments. I think always verbalizing objection to stereotypes and misogyny and being active in verbalizing respect is an effective tool to help educate young men to grow up respecting women. I think it is important for men to be active bystanders and verbalize positive statements to be effective role models.
_________________________________________________________________________________________
Want to honour your Dad in a different way this Father's Day without breaking the bank?
We offer two (2) easy and fabulous options:
Option A: Make a Small Donation
Help The Pixel Project keep our anti-Violence Against Women campaigns and projects sustainable by making a small donation on behalf of your dad to us.
Click here to learn how your donation will be used and to donate: https://www.thepixelproject.net/getting-involved-an-introduction/donate-to-the-pixel-project/
Option B: Dedicate a Song to Him
For just $0.99, you can download our first Music For Pixels song – a cover of 'The Rose' by AHMIR, YouTube's #1 R&B group and upload it onto your Dad's computer's iTunes or digital music player. Not sure about it? Listen before you buy: