Welcome to The Pixel Project's "30 For 30″ Father's Day Campaign 2013! In honour of Father's Day, we created this campaign:
To acknowledge the vital role Dads play in families, cultures and communities worldwide.
To showcase good men from different walks of life who are fabulous positive non-violent male role models.
Through this campaign, we will be publishing a short interview with a different Dad on each day of the month of June.
Our sixth "30 For 30″ 2013 Dad is Shane Brownell from Los Angeles, USA.
————————————————————————————————
The Dad Bio
I am a 27 year old father to my first newborn – a baby girl. I am currently a full time student studying Computer Science, working weekends, and the primary caregiver for my daughter while my wife works fulltime. I enjoy watching Sci-fi movies and TV shows, playing video games, and wrestling with our pug Barney. Most of all though, I love to spend time with my family: taking naps, going for walks around the lake, and indulging in "Good Eats".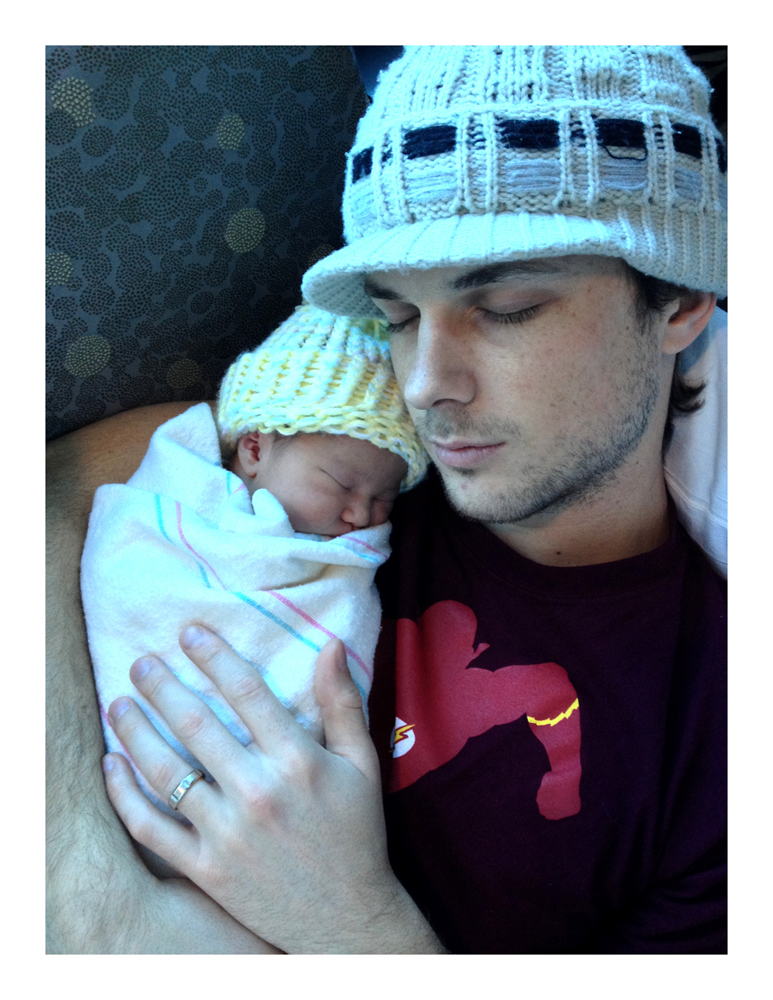 1. What is the best thing about being a dad?
When I look at her, I can see the love of my life and myself in our daughter. Knowing that when she's upset, I'm one of the few people who can make her smile. Creating my most cherished memories, for instance, the first time she laughed it warmed my heart. Seeing her smile. I love hugging her and holding her. She's wonderful!
2. A dad is usually the first male role model in a person's life and fathers do have a significant impact on their sons' attitude towards women and girls. How has your father influenced the way you see and treat women and girls?
Being able to see the lack of respect that my father has for women in his life has made me learn of the consequences that are incurred when women don't receive the respect they deserve. So while raising my daughter, I will remember to always treat my wife with the respect she deserves so that my daughter knows how a real man should treat a woman.
3. Communities and activists worldwide are starting to recognise that violence against women is not a "women's issue" but a human rights issue and that men play a role in stopping the violence. How do you think fathers and other male role models can help get young men and boys to take an interest in and step up to help prevent and stop violence against women?
I do believe that schools should start some sort of programme that promotes women and the effect they have on the world. It could coincide with Women's History Month. The programme would highlight the achievements that women have had and describe why the women have a month dedicated to them. The program would also discuss the progress of women moving in today's society and why sexism still occurs. To have men start with their sons and grandsons teaching them about how to respect women in their own families and then move outward to the community. Show the young boys that it is not a weak man, but a strong one who supports and respects the the women and girls in his life.
————————————————————————
Want to honour your Dad in a different way this Father's Day without breaking the bank?
We offer two (2) easy and fabulous options:
Option A: Make a Small Donation
Help The Pixel Project keep our anti-Violence Against Women campaigns and projects sustainable by making a small donation on behalf of your dad to us.
Click here to learn how your donation will be used and to donate: https://www.thepixelproject.net/getting-involved-an-introduction/donate-to-the-pixel-project/

Option B: Dedicate a Song to Him
For just $0.99, you can download our first Music For Pixels song – a cover of 'The Rose' by AHMIR, YouTube's #1 R&B group and upload it onto your Dad's computer's iTunes or digital music player. Not sure about it? Listen before you buy: