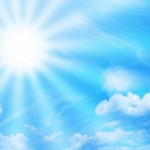 Blog by Katie Rosenthal
This week's blog comes from the Australian city of Melbourne, where a demonstration took place targeting violence against women. About 30,000 people assembled to march through the city, in a spontaneous show of celebration of life and protest against violence.
The march was prompted by the tragic murder of Irish woman Jill Meagher, whose body was found in a makeshift grave dug thirty miles out of the city. Jill had moved to Australia with her husband three years previously, and disappeared after a night out with colleagues on 22nd September. A man has since been charged with her rape and murder. The case has been described by police as a random and opportunistic attack.
The march was so well attended that police were forced to halt traffic to allow crowds to pass. Many marchers carried Irish flags and scarves, and placed candles outside the bridal boutique where Jill was last seen on surveillance cameras. Event organiser Philip Werner was overwhelmed by the turn out, explaining "I just wanted to get together with people in a show of solidarity and peaceful quiet defiance to say we're not going to cower in fear and we're not going give up hope cower in fear, and we're not going to give up hope for society". Mayor John Kavanagh added that the community's response had been spontaneous, and reflected the fear and defiance of women in the area. He stated that "I feel as though there is a black cloud hanging over our city, particularly the suburb of Brunswick". Over the coming months the city will look at ways of recognising and memorialising Jill, after an initial focus on celebrating her life.
Jill's mother, Edith McKeon who also lives in Australia has expressed her gratitude at the city's response to the tragedy. She said "Just thank you, simply thank you. I hope they put more cameras out here to keep people safe and I just thank you everybody, everybody for all your support".
Since the march Jill's life has been celebrated at a private funeral in Melbourne, and a memorial mass in her native Ireland.