Below is part two of our interview with Dr. Karestan Koenen. Part one of the interview can be seen here.
—————————————————————————–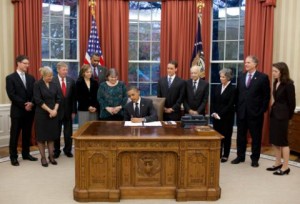 What are some of the key reforms that need to be further done by Peace Corps, and would these reforms need to be implemented by other large non-profit organizations?
The bill codifies a number of reforms that the Peace Corps is implementing. Many of these are modelled after successful programs implemented in other federal organizations such as the Department of Defence and the International FBI.
Some highlights include:
1. Sexual Assault Risk-Reduction and Response Training
Requires the Peace Corps to develop training and protocol in consultation with experts that comply with best practices in the sexual assault field and is tailored to a volunteer's specific country.
2. Sexual Assault Response
Establishes sexual assault response liaisons in country that can respond to reports of sexual assaults against a volunteer.
Creates an office of victims advocacy within the Peace Corps who help victims get the services they need.
3. Sexual Assault Review
Establishes a Sexual Assault Advisory Council made up of former volunteers (victims and non-victims) and experts in the sexual assault field to review Peace Corps sexual assault policy and implementation. The Council will meet once a year and report to Congress its findings.
Tasks the Inspector General's office with reviewing the effectiveness and implementation of Peace Corps sexual assault policy and protocol.
4. Provides Volunteers with Whistleblower Protection
Requires the Peace Corps to establish a process for Volunteers to confidentially report incidents of assault, misconduct or mismanagement.
Requires the Peace Corps to educate and train Volunteers and staff on this process.
Ensures the safety of Volunteers by requiring the consent of the Volunteer before the release of any personally identifying information.
5. Reports to Congress
Requires the Peace Corps to submit annual reports on assaults against Volunteers, on the monitoring and evaluation of Peace Corps programs and Country Directors, and a report on the costs of providing all Volunteers with adequate access to communications.
Requires a report on the quality and accessibility of health care provided through the Department of Labor to returned Volunteers.
There are still many institutions around the world that end up taking the side of the attacker. What is your advice to survivors of rape who find themselves in this situation?
After my rape in Niger, I found myself in this exact situation. I ultimately decided I had to leave the Peace Corps and focus on recovering from my assault. It took me 20 years to have the strength and credentials to confront the Peace Corps.
I say this because to emphasize a survivor's first responsibility is to her or himself and her or his own recovery. That said, Casey Frazee, founder and director of First Response Action (http://firstresponseaction.org/), was able to turn her experience of sexual assault into an organization aimed at reforming the Peace Corps. She started a blog and then began speaking with other volunteers who cared about the issue. So finding support – allies – whether within or outside the organization is crucial.
How can people working within these institutions confront rape culture or victim-blaming in these places?
The key to ending rape culture and victim-blaming is turning our focus from the victim to the perpetrator. My friend, writer Cara Hoffman, has written eloquently about this: http://www.womenundersiegeproject.org/blog/entry/bringing-the-war-home-how-perpetrators-from-the-u.s.-to-drc-get-away-with-r
How is this done on a practical level? By making ending rape culture everyone's responsibility. So much of our focus is on dissecting the victim's behaviour – what women, in particular, can do to keep themselves safe. But what if we asked ourselves what we can do to recognize and stop the perpetrators among us? What if we recognized that rape is one end of a continuum of sexualized violence that women (and men) experience throughout their lives? How would we behave differently?
What can the general public do to make organisations accountable for victim-blaming and the perpetuation of rape culture?
Every person is connected with an institution – whether it be a school or a church or a business or a federal agency. We can all take a critical look our organizations and ask ourselves what needs to be changed. Basic institutional changes include a system for victims to report sexual assaults and rape – and protections for whistle-blowers who observe inappropriate behaviour within their institutions. Establishing an outside advisory group to review the organization's practices and policies with regard to rape and sexual assault is another concrete step that can be taken.
In your opinion, how can people help stop violence against women in their communities, cultures and societies?
We need to stop viewing violence against women as a 'women's' problem. It is a social problem that affects men and women today and future generations. Violence in general – whether against women or men – is largely committed by men. We need to focus our efforts on the real problem – the minority of men who committee the majority of violence around the world – and identify what drives such violence.
We are doing this in a new project, Women Under Siege (http://www.womenundersiegeproject.org/). The aim of this project is to identify and end sexualized violence around the world with a particular focus on conflict situations.