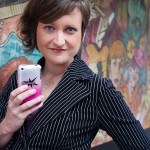 Emily is an international leader in the anti-street-harassment movement. In 2005, at the age of 24, she co-founded Hollaback! (iHollaback.org) in New York City, and in 2010 she became the first full-time executive director.
When feminist icon Gloria Steinem was asked "What women today inspire you and make you feel that the movement continues?" Her response was, "Emily May of Hollaback! who has empowered women in the street, literally."
Emily holds a Master's Degree in Social Policy and Planning from the London School of Economics.
Hollaback! was created by yourself and 4 other activists back in 2005. How and why did it begin?
Hollaback! started as a conversation among friends – myself and three other women and three men — in 2005. As we told story after story of harassment , the men became increasingly concerned. Samuel Carter, who is now Hollaback!'s board chair, said quite simply, "you live in a different city than we do." Collectively, we resolved to change that. Around the same time, a woman named Thao Nygen bravely stood up to her harasser – an older, upper middle class raw-foods restaurant owner – who terrified her by masturbating across from her on the subway. She photographed him and presented the evidence to the police. When the police ignored her, she posted the photo on flickr. Eventually the photo appeared on the front page of the New York Daily News, where it incited a city-wide conversation about street harassment. We became the founders of Hollaback!, inspired by Thao's story, and decided to apply her model to all forms of harassment and to document these experiences on a public blog.
It says on your website: "There are two reasons to hollaback!: for you, and for the world." Please expand and tell us more about why we should not stand for street harrassment.
To empower yourself and take back the right to be who you are. Street harassment teaches us to be silent and endure a solitary form of abuse. Even by only a small proportion of us using our voices we give others the strength to join us and say we are not accepting this any longer. By holla'ing back you are transforming an experience that is lonely and isolating into one that is sharable, producing opportunities to gain support. Stories and opinions change the world and can be used to educate the masses on what is acceptable in public spaces. It raises awareness of the issue and shows others that they are not alone.
What is the end goal for Hollaback!? Tell us about your mission!
Hollaback!'s mission is to improve public safety for women and LGBTQ individuals. Our work is brought to life by the local leaders who do grassroots work in communities around the world and believe that through our strategy of 1) breaking the silence through personal narrative and research, 2) inspiring international leadership and movement-building, 3) shifting public opinion, and 4) engaging elected officials, we have the power to end street harassment and assault. What does this mean for me personally? I want all the little babies riding around in strollers today to never have to experience street harassment the way that we have. I want them to be able to say good morning to the guy on the corner without fear that it will escalate. I want them to be able to walk down the street, their thoughts interrupted only by traffic and shop windows. And ultimately, I want them to take my work for granted.
Hollaback believes that street harassment is one of the most under reported types gender based violence in the world. Please tell us more about how widespread street harassment is and why victims are less likely to report it than other gender based or discriminatory crimes.
Sexual harassment is a gateway crime that thrives in a culture where gender-based violence is accepted as the norm. There is a clear legal framework to reproach sexual harassment in the home or at work, but when it comes to the streets – all bets are off. This gap persists, not because street harassment hurts any less on the streets, but because until now, there hasn't been a solution. The explosion of mobile technology has given us an unprecedented opportunity to end street harassment, and with it, the chance to take on one of the final frontiers for women's and LGBTQ rights around the word.
If I became the unfortunate victim of street harassment tomorrow – what should I do? What would my next steps be?
At the end of the day, it's not your responsibility to have the "perfect" response but it isn't your fault it happened in the first place. That said, firmly telling the perpetrator that their behaviour is inappropriate and then continuing on your way is a good option. But however you respond, always remember to share your story on ihollaback.org or in another supportive environment. Hiding these things or pretending they don't matter (while they secretly eat away at us) doesn't help you, and it doesn't help the movement to end street harassment.
Part two of our interview with Emily May will be published tomorrow, Monday, January 30.