In this inspirational interview, we talk with Becky Lee, founder of Becky's Fund. The organisation is hosting the Washington D.C. edition of Global Walk a Mile in Her Shoes Day.
We understand that Becky's fund's mission is fourfold. Please tell us about these four main aims.
Foster awareness: help people understand the elements of domestic violence through education, such as how prevalent it is, why battered victims cannot always leave easily, and what can to be done to end domestic violence,
Encourage advocacy: encourage people to care about ending domestic violence,
Promote activism: take an active role in helping battered victims find safety through counselling, education and legal representation, and
Create support: provide assistance for the support of victims of domestic violence.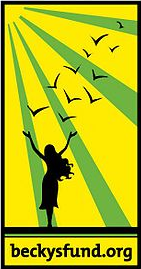 Becky's Fund began when you attended a college law lecture delivered by a criminal law attorney specializing in acquitting battered women imprisoned for killing their abusers in self-defence. Please tell us about this life-changing lecture and what in particular crystallised your passion to end violence against women.
I aggressively sought out my first mentor in 1999 during my senior year in college after hearing Attorney Andrea Lyon speak in a class at the University of Michigan. When I heard about the high rate of violence against women and how no one was doing anything about this issue, I couldn't sit back and do nothing. I approached her right after she spoke in my Women's Studies class about defending battered women in prison and asked her if I could study under her and work with her that summer. Even years later, I always asked her for her input as I applied to law school, went to work in non-profits, and applied for jobs. Even when she told me things I didn't want to hear, I always listened, knowing the importance and value of looking to someone who had experience in the movement, struggled with the same issues I did, and had my best interests in mind. By having accountability and checking in with my mentor over the last several years, I have learned so much about my faults, taking my passion and dreams to the next level, and learning how to maximize my efforts to be as successful as possible.
You are based in Washington D.C. Please tell us about the impact of domestic violence and its prevalence in America. What hinders the path to ending VAW in the U.S.A today?
One of the most important things the movement can do is continue to bring forth recognition and education regarding this issue. As an issue that tends to be more hidden in society and only addressed when a fatality occurs, domestic and dating violence (DV) nonetheless continues to rise. The more educated and aware people are made of the issue before actually facing the problem, the more comfortable they will be either going for help or assisting someone they know who is struggling with DV.
We need to use a holistic approach that's more unified and collaborative in working with different groups and networks. Look at how Susan G. Komen has become a corporate machine in fundraising and addressing breast cancer. We need to dial up the conversation in mainstream America about how DV affects the lives of so many and what we need do to put an end to this epidemic. By building awareness, more and more people will come to associate the colour purple with DV.
Stronger advocates in Washington D.C. are needed who will work to nationalize the movement towards preventing DV throughout the whole nation. Breast Cancer Awareness Month has reached the levels of the NFL wearing pink to support it throughout the entire month of October and companies like Yoplait donating money for every yogurt top dropped into a box. To reach this level of awareness would be a huge step in preventing and educating our country about DV.
Donors could incentivize groups to work together, so that there is less fighting and politics about who gets credit and money for new programs and projects.
More grassroots organizing is needed to reach the masses who are affected by DV.
We must continue to educate school children about the dangers of DV and how they can be a voice in their own schools to bring an end to it.
"Young women between 16-24 years old are in the highest risk category for violence committed by an intimate partner." (Source: www.BeckysFund.com). I understand that you have a programme to help this specific age group by delivering lectures and workshops on college campuses. Please tell us about it.
Becky's Fund's "Becoming Your Own Heroine: Lessons in Self-Empowerment and Dating Violence" workshops are designed to empower and educate young girls on the topics of dating violence, bullying, and building self-esteem. The lessons within the workshops are interactive and uniquely incorporate art as a way to present this difficult topic to young girls aged 9-18 years old. The girls create bead bracelets to remind themselves of the statistic of domestic violence, filled out pledge bubbles that stated why they wanted to stop domestic and dating violence, and various other artistic activities to engage them in the fight against domestic violence.
Studies have shown that fusing art with difficult issues such as death, loss and violence is an incredibly effective way to communicate to younger demographics. This is because young people are very receptive to artistic mediums and often, they better retain what they have been taught through the medium of art. By fusing art with the issue of domestic and dating violence, Becky's Fund hopes to shed a light on a deep issue in a relatable way.
Education is the first step towards prevention. The "Becoming Your Own Heroine" workshops help facilitate domestic and dating violence education in a unique and unprecedented way in order to take the steps necessary to provide freedom from domestic and dating violence.
Becky's Fund National College Tour has been occurring over the last 5 years with the goals of increasing awareness about intimate partner violence and providing the tools to build healthy relationships and gain the confidence to approach any situation in a non-violent way. We educate with statistics and scenarios, teach non-violent responses to violent situations though role-playing, and create a safe space for an open dialogue on intimate partner violence while helping students learn how to get themselves or someone they know out of a dangerous situation.
Part two of our interview with Becky Lee will be posted on Thursday, June 9, 2011.