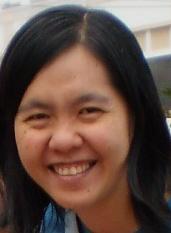 We are pleased to share with you an interview with Wong Su Zane, who works with one of our partner-beneficiaries, Women's Aid Organisation Malaysia (WAO).
Wong Su Zane has been working at WAO since 2005. She first held the position of social worker and was promoted in 2009 to the position of Social Work Manager. Although she began her career in the corporate world, she knew from the age of eighteen that she wanted to be a social worker.
Prior to graduating from business school and joining WAO, Su Zane began volunteering with Lifeline Association Malaysia, providing counselling services, conducting group sessions and self-development workshops, and training new volunteers. She continues to give her time to Lifeline as a Volunteer Supervisor.
Everyone working to end violence against women has their own unique story to tell about why and how they decided to get on board the cause. Tell us your story—how and why did you become a social worker and why did you choose to work with victims and survivors of violence against women?
When I was a teenager, I saw many of my friends be ill-treated by their boyfriends. One was forced by her boyfriend to go for an abortion, then insulted and abandoned by him and his family. Another was, I believe, trafficked by her boyfriend and forced into prostitution. We have not seen her since. I felt helpless as I could not help my friends enough when they needed me. These experiences had a great impact on me and I decided to become a full-time social worker when I was 19 years old.
Being a child sexual abuse survivor myself, I knew what it meant to be trapped in a life full of darkness and fear. I was 24 when I started to recall my childhood memories and then only did I start my healing journey and begin to work with survivors through group sessions together with my teacher.
I became very clear that I wanted to work with survivors of violence. I knew that if there was somebody who was willing to listen to me when the incident happened to me, I wouldn't have had to suffer so many years in silence and I would recover faster.
I wish I could become like a candle that can light up survivors' darkness and give them hope. I believe each of us deserves to have a better life, a life of dignity, a life that we can cherish, a life with no fear, but love.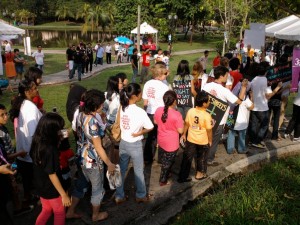 Tell us about your work at WAO. What is your role at WAO? Can you give us some examples of what you do every day and how you help survivors?
I am currently managing a team of seven social workers that are providing social work and counselling services for women whom we call clients. At the Refuge, we provide counselling sessions (through telephone or face-to-face counselling) for the women. These sessions are to identify their issues and provide them with several options whereby they can exercise a choice. The social worker also needs to do case management for all the Refuge clients who have been assigned to them. Case management involves not just counselling but also providing them with social work services like linking them to respective agencies.
As most of our clients are victims and survivors of violence, the social workers spent most of their time talking to the clients about the dynamics of violence and issues of power and control. This is for them to understand the issues. Besides this, we also need to talk to them about their fear and anxieties, so that our clients can recognise the pattern of violence and become empowered enough to start a new life.
For clients who need protection, we will accompany them to the various agencies such as the police station, welfare department, hospital and courts. For clients who are not Malaysian, we need to help them to contact various embassies and the immigration department to deal issues such as visas and permits.
WAO provides refuge to abused women and their children. Besides refuge, what kinds of services are available to women who stay in the shelter?
At the Refuge women receive counselling and protection services. If necessary, we also help them find jobs, accommodation,and financial help.
WAO has an "Anak Angkat" programme which supports the care and education of children who come to WAO when their mother seeks help and shelter. Can you tell us about the programme? What kinds of services do you offer to ensure that children receive adequate care and continue to attend school during their stay at the WAO shelter?
The "Anak Angkat" programme has played an important role in helping our ex-residents who have decided to stay independently with their children. This programme helps our mothers by giving them financial support amounting to RM70 per month. Their monthly earning is just enough to cover their accommodation, food, and transportation expenses. This sponsorship has helped reduce a single mother's financial burden by lending a helping hand to meet their children's educational needs such as school fees, bus fare, books, stationery etc.
Every year we have generous sponsors who voluntarily contribute. Our sponsors vary from companies, and associations to members of the public. A social worker is assigned to handle the programme. All decisions as to who should receive this financial help are discussed at the social worker's meeting. The sponsorship will be given by assessing the monthly earnings of the mother and the number of her school-going children.
The WAO Child Care Centre, established in 1991, is a very special children's home, and is only for the children of our clients who have previously sought shelter at the Refuge. The children may have witnessed or experienced domestic abuse themselves. The children stay with us from one month to three years, but sometimes longer. This is time given to allow the mother to sort out her life, her job, establish her network of support, be able to have some financial stability, and most of all, be able to get a home of her own.
WAO offers support services by phone, including counselling and a sexual assault helpline. How many callers do you work with in a typical month and what kinds of issues do they need help with?
WAO receives around 120-150 calls a month, with an average of 30 calls per social worker.
About 50% of the callers are in a domestic violence situation and usually they want information on what they should do. Most of the time, I will explain to them about how to make a police report and how to apply for an interim protection order. Other issues are information relating to divorce, custody and maintenance, problems with their children, needing information on other services such as mental health services, nursing home, drug or alcohol rehabilitation centers for their family members, or how to apply for welfare assistance.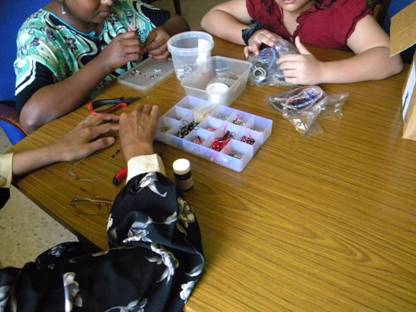 We heard that WAO runs a programme that provides small start-up funds for survivors you assist in running their own businesses as part of helping them gain financial independence after escaping abuse. How does the program work? Is it based on grants or loans? Do you have an example of a woman who has found success as a business owner after staying in the shelter?
The Tun Tan Siew Sin Fund was set up to assist women with some seed money to pay for their deposit for rent, start a business, buy a motorbike etc. Several women have a side business selling food and making jewellery.
Asha (not her real name) was forced to flee her abusive husband by her children who could not bear to see their mother beaten. The children once saw their father trying to drown their mother. Her children convinced her she must flee or she may die. She spent about three months in the shelter. She was determined to have all of her 5 children with her, so she took a loan of RM 700 from the TTS memorial fund to pay for the down payment for the rent of a small flat. She also used the money to start a sales business selling tissues, toys, and sweets at shopping malls. Although she has stopped doing sales, she gained confidence from this experience and is now working full time as a cashier at a shopping mall.
Tell us about the typical experience of a woman living at WAO's refuge centre. How many women (and their children) currently stay at the centre? What sort of help to they get? How long do they stay?
Currently, there are 14 women and 9 children staying at the centre.
Every woman who comes to WAO is assigned to a social worker. This social worker is in charge of her case management, which includes counselling sessions, accompanying the clients to respective agencies, and working together with the client to draft out their plans when they leave the Refuge. The women can stay in the Refuge for a maximum of three months, however in some cases (especially foreigners), they might stay longer.
When they are in the Refuge, they participate in skills building programmes such as English and computer classes, beading classes, and sewing classes. We have also organised yoga sessions. There are also group sessions to share their experiences and feelings and be supported by one and another. We also organise educational sessions such as parenting, family planning, budgeting, good diet, sex and gender etc.
We organise activities for children too. Every morning day there is scheduled activity. These activities include arts and crafts, school lessons, and communication skills to express and manage feelings of frustration or anger.
There are undoubtedly many success stories from your time at WAO. Is there one that stands out that you can share with us? What services did she use and what was the direct impact on her life?
The police found a woman in an abandoned house without any documents. At the police station she refused to talk. She was remanded in the police station for 14 days and still refused to talk. The police officer did not want to send her to Immigration and instead called WAO for help and temporary shelter.
When she first came to WAO, she was very shy. We suspected she was a victim of trafficking but she refused to talk about her past. It took us more then two months to confirm that she came from Myanmar. She was trafficked to Malaysia when she was very young; she barely remembered what happened and which town she came from. We contacted several international NGOs from Thailand and Myanmar and after 15 months, we located her family members in Myanmar. The Myanmar NGO focused on getting her national identification and permission to go back Myanmar. WAO assisted in getting the necessary documents from immigration and the Myanmar Embassy in Kuala Lumpur. Finally, I travelled with her back to Myanmar to unite her with her family in 2009.
WAO worked on this case for eighteen months. There were many stumbling blocks but we never gave up hope. This strong belief finally brought us joy when the Myanmar NGO was able to locate her family members in a remote area after the girl disappeared from there seven years ago. To witness the family reunion was such a joy, and we have heard that she is still doing well.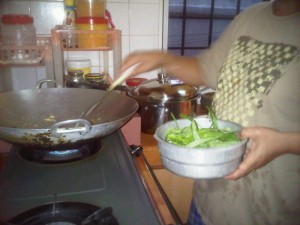 Finally: Why should people worldwide donate for pixels? How will WAO's share of the funds help the women and children?
We must believe that every one of us can do something small but significant to eliminate violence against women. By contributing even just US$5.00 you will make sure that victims and survivors are not alone and can seek safety and help. The money will go toward the upkeep of the Refuge and telephone counselling lines. For instance, US$5 will amount to 15 ringgit which will pay for either electricity and water at the Refuge home for a day or two hot and nutritionally balanced meals per child per day.
————————
Inspired by this interview?
To donate for pixels, click here.
To take part in Global "Walk a Mile in Her Shoes" which raises funds to reveal pixels, visit http://globalwalkamileday.thepixelproject.net