As part of our 'Inspirational Interviews' series featuring some of the bravest and most formidable activists working to end violence against women around the world, we are pleased today to share our interview with Olivia Klaus, the director and producer of the film Sin by Silence.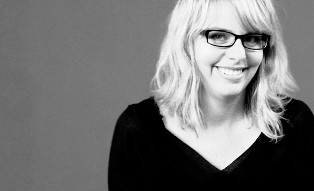 About Olivia Klaus
An award winning filmmaker, Olivia Klaus uses the power of visual stories to share and offer commentary on modern day social change. Founding member of "Quiet Little Productions," Olivia directed and produced its first feature film, the powerful and unforgettable Sin by Silence. Her debut documentary film tells the story of the first inmate-led women's group for victims of domestic violence. The members of this group are serving life sentences in the California Institute for Women. Their crime? Killing their abusers after years of systematic abuse. Despite working against a prison system which fails to understand the complexities of their cases, together, these women find freedom in raising awareness and evoking social change.
"Prison is safer than the love of your life." This is the tagline of your film Sin by Silence, a documentary film which gives a voice to the group Convicted Women Against Abuse. Tell us about the CWAA, your film and why you chose to tell their story.
Sin by Silence is a story of empowerment when all odds are stacked against you. It's a film that tells the story of women who are domestic violence's worst-case scenarios: women who have killed their abusers. Yet, more importantly, it's an incredible journey of women who overcame the odds to journey from victim to survivor.
Inside California's oldest women's prison, we documented the first inmate-initiated and led group in the entire U.S. prison system – Convicted Women Against Abuse. CWAA was created, in 1989, by inmate Brenda Clubine to help abused women speak out and realize they are not alone. Over the past two decades, the women of CWAA have changed laws for battered women and raised awareness for those on the outside.
The first time I met these women was in 2001. I started volunteering with the group to help with my own journey of understanding of the dynamics of abuse so that I could help a friend who had recently opened up to me about the violence she was experiencing in her marriage. I was nervous that evening, being in prison for the first time and wondering whom I was about to meet. But when the meeting started, I was slowly introduced to women who could be my neighbors, my friends, my sister…or even myself. Domestic violence sees no boundaries! And since that first meeting, I have been unable to turn my back on these convicted survivors. They opened my eyes to a part of the world that I never realized existed. Once that silence had been broken, I found that I could never pretend that life was the way it was before.
The title of the film is taken from a quote from Abraham Lincoln, "To sin by silence when they should protest makes cowards of men." Why do you think this quote is particularly applicable to the problem of domestic violence and an appropriate title for your film?
Rarely do I find that people want to talk about domestic violence. It's such an ugly topic that most would rather forget exists. Yet, it is that mindset that has caused statistics to rise to numbers where 1 in 3 women will experience abuse sometime in their lifetime.
We have remained silent for far too long, and it is only when we start talking about such dark and painful topics that more people will be empowered and feel comfortable to come forward, speak up and receive help. We must protest about the fact that every 9 seconds a woman is being beaten. We must break the silence!
CWAA has been very effective. They have changed the laws concerning victims of domestic abuse. Please tell us more about these law changes in California and other successes of CWAA.
Convicted Women Against Abuse is a visionary group of women who are determined to be more than a statistic. With 4 women dying a day due to domestic violence, the women of CWAA provide us with the preventative road map for change through sharing their stories in Sin by Silence. They provide us the key to a Pandora's box of secrets that make up the complex layers of abusive relationships. Yet, the most empowering part of CWAA is that these women came together to not only heal, but create change. From behind prison walls, these women were able to inspire new laws to protect the women of California…and ultimately the nation.
Because of the group's efforts, Battered Women's Syndrome became legally defined in 1992. It recognizes and is mandatory for use in the cases of battered women to help explain to a jury the possibilities that might lead to their crime and circumstances. Still, there was cause for protest as women of CWAA took a stand for what could be their improper convictions, and in 2002 the women inspired more legislation that resulted in California becoming the first state to allow incarcerated victims to petition the courts to re-open their cases if important evidence of domestic violence was overlooked. As a result, more than 30 women have been released in California. Just incredible that women behind bars could ignite such authoritative change!
Part Two of the interview with Olivia Klaus will be posted tomorrow, Monday April 11, 2011.