As part of our 'Inspirational Interviews' series featuring some of the bravest and most formidable activists working to end violence against women around the world, we are pleased today to share our interview with the Executive Director of the White Ribbon Campaign, Todd Minerson.
About Todd Minerson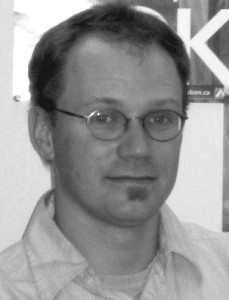 A dedicated, life-long campaigner for social change, Todd Minerson is the Executive Director of the White Ribbon Campaign. Created by men to end violence against women, The White Ribbon Campaign was founded in the wake of Canada's worst act of gender based violence—the 1989 Montréal Massacre. Two years after this atrocity, in 1991, a group of men pledged to do everything in their power to end violence against women. Now the White Ribbon Campaign is operating in over 60 countries, working with men of all ages and backgrounds to find solutions to end violence against women.
What inspired your commitment to social justice?
Wow, long story! I have always been interested in community-based work. I studied History at Queens University in Kingston, and incorporated areas of study on social change and gender history into my degree. As soon as I left university I immersed myself in community-based projects. I started working with HIV prevention projects, and I ran a shelter for the homeless. I also worked with the Lesbian, Gay and Bisexual Community in a range of areas.
It came to a point when I thought to myself: "What's my role as a middle class, white, able-bodied, straight man? What is my role in society?"
It was a great moment when I realised I could combine my personal convictions with my career.
Please tell us about the White Ribbon campaign. How did you first get involved?
The White Ribbon Campaign was born out of a response to one of the greatest atrocities Canada has ever seen. In 1989 an armed man walked into L'Ecole Polytechnique in Montréal, separated the men from the women, and shot dead 14 women in cold blood. It was a crime motivated by the hatred of women. I was in my second year at university at the time; I remember it well. It affected everyone deeply, and brought up huge issues to do with gender violence and inequality. It forced us all to look at women's rights in a different light.
On the second anniversary of the massacre the White Ribbon Campaign was created by a group of men sitting around a kitchen table, all in agreement that change needed to happen. The symbol of the White Ribbon was born. Every man who wore The White Ribbon would take a pledge to never commit or condone violence against women, or idly stand by in the face of inequality.
Twenty years later, The White Ribbon campaign is the biggest movement of men and boys to end violence against women. We are present in 60 countries around the world. Fifteen to twenty countries have a central office which runs independently and promotes campaigns which are appropriate and specific to their countries.
How did I first get involved? Well, I was deeply affected by the Montréal massacre. I was horrified by what had happened. There was a lot of public discussion at the time about gender equalities, and debates were raging from all corners. Gender questions always concerned me. I was thinking a lot about social issues at the time. I often wondered, why are certain groups of young people so good at violence? How is it that this is the only tool they have to make their mark on society? How do these negative, destructive cycles begin?
When I was given the opportunity later on in my career to work with gender equality with The White Ribbon, it was a very easy choice for me!
Why do you think violence against women is such a widespread and deep-rooted problem?
We know that domestic violence is one of the most unreported human rights violations in the world. A tremendous, heroic amount of work has been done by women in this area. Policy change, victim support—huge amounts have been achieved. However, the root causes of violence against women haven't been addressed.
What I'm asking is: what about the attitudes of men who advocate violence? You can't legislate the way men are brought up. We simply haven't done enough to change the attitudes of men. We need to re-define and challenge traditional notions of masculinity. What does it mean to be a good father, a good partner? We need to work more effectively, and challenge the inherent inequalities in our societies today.
Tell us about your workshops with young men. How do you engage them on issues concerning domestic violence, dating violence or any other type of violence against women?
We work with every kind of man we can engage with. We use the "life-cycle" approach, meaning we try to reach men at every age and challenge attitudes of aggression and inequality. We use specific tactics for specific age groups. For example, when we work with 7-9 year-olds, we are not going to engage in a discussion on domestic violence. Instead we talk about notions of respect and empathy. At high school, we use a different approach again. We work around issues of consent or healthy and equal relationships and pathways which could potentially lead to dating violence. We watch hip hop videos and popular media and ask teenagers to tell us what they see. Together, we take a critical analysis of the destructive side of some aspects of modern day masculinity. We are very hopeful about working with young people. However this doesn't mean that we let adult men off the hook!
We also work with adult men, often though "partnerships". For example, just recently, a Canadian based Aboriginal group approached us to partner, and we teamed up with them and worked on a variety of issues.
It's amazing the ideas that come out in discussion in the partnership workshops. Ideas on fatherhood, questions like, "How can I be a better father?" often emerge. How to be a nurturing parent often develops into discussions on how to be a better partner and husband. Together we are positively transforming notions of masculinity and contributing to more positive roles that men can play in family life.
You have worked Internationally to end violence against women. Please tell us about some of the local projects and programmes you were involved in. What solutions did you find worked on a local level, and how can the programmes you developed be of use in other cultures?
Again, it all comes down to partnerships. We try to take the "best of all world" solutions. We can help local communities design strategies. We support them to find solutions to their own problems. It's really important that they are navigating the solutions to their own problems. It's a great feeling 3 or 4 days into the workshop, when we, the facilitators, take a step back and watch the community leaders take ownership of their projects. It's wonderful to watch the birth of a new social movement!
Part 2 of our interview with Todd Minerson will be published tomorrow, Monday March 14.