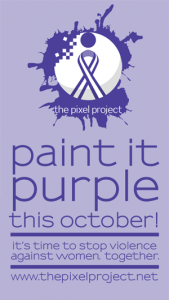 This is the last weekend of our Paint It Purple campaign and you can still participate. All you have to do is download a Paint It Purple avatar or other virtual goody to tag your blog, Twitter feed, or website with a dash of purple.
We've had a number of virtual blog parties this month as part of Paint It Purple. We've featured them in previous posts on our blog and we have one more to add to our list! Sarah at the RanDumblings blog added her post last week and has also outfitted her blog with a Paint It Purple badge. Thanks Sarah–it looks great!
Every effort counts as an action in UNIFEM's SayNO – UNiTE to End Violence Against Women campaign. To date, we have amassed 885 actions, and with one concerted push, we can get to 1,000!
Use all your social media networks and tell all your friends! EVERY ACTION COUNTS. Send a link to our Paint It Purple page and help us create a virtual purple wave to raise awareness about violence against women!