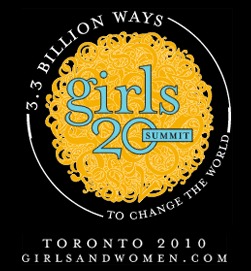 In the Greater Toronto Area (GTA) and perhaps around the world, the most memorable images from the recent G20 Summit were those of a burning police car and black-clad protestors and riot police. But there was some good news to come out of the Toronto summit. One such story is that of the G(irls)20 Summit.
Held ten days before the G20 Summit, the G(irls)20 meeting brought together one girl from each of the G20 countries to discuss ideas about reaching the Millennium Development Goals (MDG) that most affect women and girls. A girl from Malawi was also invited to add representation from Africa. The summit will reconvene next year, ahead of the G20 summit in France.
The summit was hosted and run by the Belinda Stronach Foundation. In an interview prior to the event, Ms. Stronach talked about why the summit was needed. She also talked about its purpose: "…the outcome will be that there will be a proposal or solutions put forward on how the well-being of girls in developing countries and around the world can be improved."
The final communiqué of the inaugural summit includes the solutions recommended by the girls, including the creation of safe and supportive school environments free of violence and teaching girls about their rights and empowering them to refuse forced sex.
A website has been created in support of the summit and its ongoing work. It is based on the fact that there are 3.3 billion women in the world and, therefore, 3.3 billion ways to change the world. People interested in sharing their ideas can register and get a unique number. They can then add their ideas in "The Change Room" on the site. Videos from the summit are also available on the site.
All in all, the summit and its website look to be a great way to raise awareness about the issues facing girls and women and, more importantly, inspire girls to speak their minds and become part of the solution.