Welcome to The Pixel Project's "30 For 30″ Father's Day Campaign 2019! In honour of Father's Day, we created this campaign:
To acknowledge the vital role dads play in families, cultures and communities worldwide.
To showcase men from different walks of life who are fabulous positive non-violent and non-sexist male role models.
To provide dads worldwide a positive platform to share ideas about stopping sexism, misogyny, and violence against women and girls.
This is our 7th annual 30 For 30 campaign and through it we will be publishing interviews with dads from across the world throughout the month of June.
Our second "30 For 30″ 2019 Dad is Brian Anderson from USA
---
The Dad Bio:
I'm a dad of two spirited girls. They are five and two-and-a-half years old and test me every day to become a better and more attentive dad. At work, I'm a programme manager for IFYC, a small non-profit focused on building interfaith cooperation on college campuses. In my spare time, I write about my fatherhood experiences, coordinate a monthly dad's night out, and produce live storytelling events focused on "fathering" stories.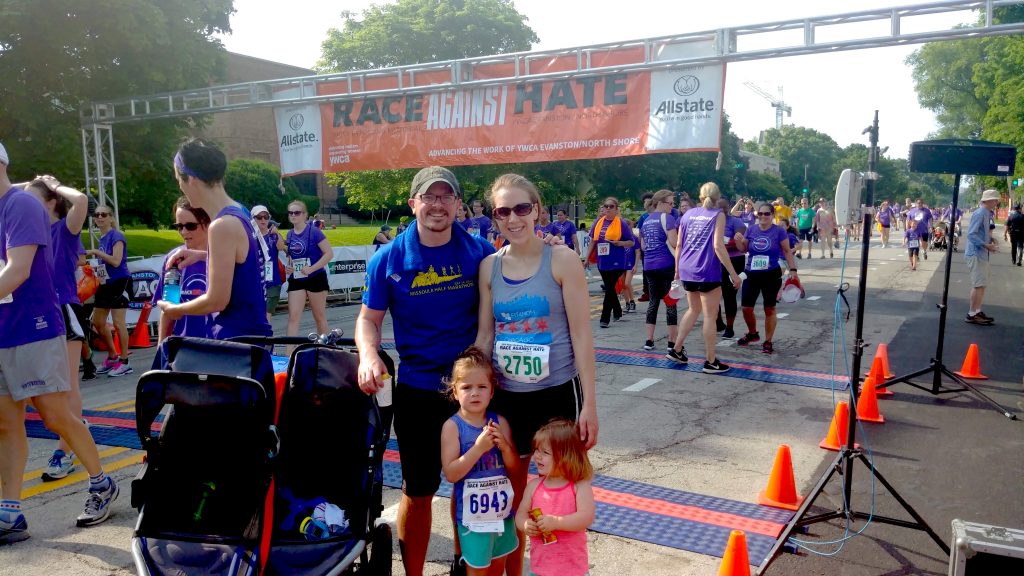 1. What is the best thing about being a dad?
All of the "best" things about being a dad, watching my daughters reach and surpass developmental milestones take the cake. Whether it is a new word, a new skill, or accepting a new responsibility, it is such a joy to see their faces light up and their minds whirl away. This comes to life most often while at gymnastics lessons. My youngest is too little, so I join in on her lessons, so I'm right there with her when she hangs from a bar or teeters as she walks across the balance beam. Seeing her little face tighten in concentration, then brighten when she makes it across the beam or completes an unassisted forward roll is the best moment of my week. For my 5-year-old, it is hearing that she saw a new kid feeling left out and invited them to join her at lunch. Seeing her budding empathy serves as a reminder that it isn't just physical development that is important, but the moral and emotional stuff too!
2. A dad is usually the first male role model in a person's life and fathers do have a significant impact on their sons' attitude towards women and girls. How has your father (or father figure) influenced the way you see and treat women and girls?
My parents were very intentional in balancing the roles they played in the family. My dad cooked, helped us with homework, and made sure to be present in ways that his father was not. But my father is a quiet man, so I don't recall many interactions where he sat me down to tell me how to respect women. It was in his daily actions. It was demonstrating love and respect for my mom, my godmother, and aunts. It was treating me and my younger sister as equals and pushing both of us to be driven, focused people. And whenever I made a misstep in my treatment of my sister, or said something foolish, he made sure to explain with words rather than corporal punishment because for my dad the means were just as important as the ends to my education.
3. Communities and activists worldwide are starting to recognise that violence against women is not a "women's issue" but a human rights issue and that men play a role in stopping the violence. How do you think fathers and other male role models can help get young men and boys to take an interest in and step up to help prevent and stop violence against women?
I began studying gender violence and men's work in graduate school in the mid-2000s. During that time, I came across Desmond Tutu's quote, "my humanity is bound up in yours, for we can only be human together." This quote guided my work as I researched Men Against Violence student programmes and with the undergraduate men with whom I organised a White Ribbon campaign. This quote calls us to engage men in a way that leads them to understand that preventing violence against women and girls leads to a deeper sense of humanity and the interconnection between all of us. While this can take the form of formal campaigns, it can also come in the form of simple language correction and bystander interventions when a friend makes a tone-deaf remark. As I engage with fathers of young children, it is working with them to build healthy relationships with everyone around them so that their sons and daughters see what respect looks like.