Welcome to The Pixel Project's "30 For 30″ Father's Day Campaign 2013! In honour of Father's Day, we created this campaign:
To acknowledge the vital role Dads play in families, cultures and communities worldwide.
To showcase good men from different walks of life who are fabulous positive non-violent male role models.
Through this campaign, we will be publishing a short interview with a different Dad on each day of the month of June.
This campaign is also part of a programme of initiatives held throughout 2014 in support of the Celebrity Male Role Model Pixel Reveal campaign that is in benefit of the National Coalition Against Domestic Violence and The Pixel Project. Donate at just US$1 per pixel to reveal the mystery Celebrity Male Role Models and help raise US$1 million for the cause while raising awareness about the important role men and boys play in ending violence against women in their communities worldwide. Donations begin at just US$10 and you can donate via the Pixel Reveal website here or the Pixel Reveal Razoo donation page here.
Our eighth "30 For 30″ 2014 Dad is Leland Cheung from the USA.
__________________________________________________________________________________________
The Dad Bio
Leland has been a city councillor in Cambridge, Massachusetts since 2009 and is currently running for Lieutenant Governor. Between serving as a councillor and campaigning, he is also a new dad. He and his wife, Yin, have one daughter, Lela Marie, who was born in November 2013. In those rare moments that he has spare time, Leland likes to put his technical skills to work by building electric scooters by hand.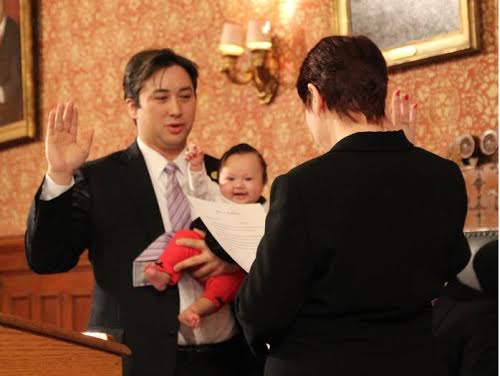 1. What is the best thing about being a dad?
The best thing about being a dad is coming home from a long day at work and seeing Lela's beaming smile rush up to me as I walk through the door. I spend a significant amount of time travelling to various cities throughout Massachusetts, so I truly relish those quieter moments where it is just my family and me together. Lela is growing up so fast, so every moment spent with her is precious.
2. A dad is usually the first male role model in a person's life and fathers do have a significant impact on their sons' attitude towards women and girls. How has your father influenced the way you see and treat women and girls?
I have nothing but tremendous respect for my father. As a Chinese immigrant to the United States, he took a huge chance at making a better life for his family. He was drawn to America for its unique combination of freedom and opportunity for all, including women. I credit him for instilling in me that passion to help forge stronger communities for everyone and to help make Massachusetts a better place for everyone, regardless of gender.
3. Communities and activists worldwide are starting to recognise that violence against women is not a "women's issue" but a human rights issue and that men play a role in stopping the violence. How do you think fathers and other male role models can help get young men and boys to take an interest in and step up to help prevent and stop violence against women?
Dads and community role models need to step up and break the cycle of silence in regards to violence against women. For too long, this issue has not been discussed openly, but attitudes are changing. It is every man's duty to speak out and let young men know that violence against women is unacceptable in any circumstances, and that intentionally hurting women is a characteristic of a weak man.