In part 2 of our September Inspirational Interview with Lakshmi Sundaram, a Global Coordinator of Girls, Not Brides, Lakshmi takes to us about maternal health for child brides, how Girls Not Brides coordinates their global efforts and their work in Afghanistan where the practice of child marriage is rampant.

Find out more about Girls, Not Brides at www.GirlsNotBrides.org or follow them on Twitter @GirlsNotBrides and Facebook.
You can read Part 1 of the interview here.

__________________________________________________________________________________________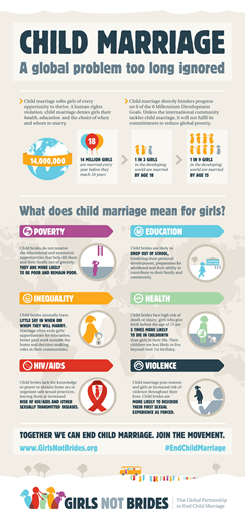 6. Maternal health is also an area of huge concern for child brides. What kinds of complications typically affect these young girls?
The toll child marriage takes on girls lasts a lifetime. Alem, a former child bride who now campaigns for girls' rights in Ethiopia, told us that she "could never leave behind the social, health, and economic consequences of child marriage."
Child marriage can put girls at risk of serious pregnancy-related injuries and death. Complications in pregnancy and childbirth are the leading cause of death for girls aged 15-19 in low and middle-income countries. It is worth noting that 90% of first births that take place before the age of 18 occur within marriage.
Child brides are also at greater risk of injuries such as obstetric fistula, an injury that occurs after prolonged childbirth, often because the girl's pelvic is too small to deliver a child. It results in a hole between the girl's vagina and her bladder or rectum and causes constant incontinence, not only giving the girl great pain, but also isolating her from the rest of their community.
Also, let's not forget that women who enter marriage as children are less likely to be able to assert their wishes and negotiate safe sexual relations with their husbands, who may be 15 or 20 years older than them, and are usually more experienced. This puts these girls at risk of HIV/AIDS and other sexually transmitted diseases.
7. Early childhood marriage is a global problem. How do you co-ordinate your work effectively in so many diverse countries, which must present their own cultural, social, and economic challenges?
One of the challenges is this: how can we address a family issue that is so personal to the girls involved, yet that has far-reaching consequences for global development? In other words, how can we bring about the local change in ideas and behaviour that is needed to make a difference in the life of girls, while also addressing the structural issues that hold them back, such as insecurity or a lack of quality education and economic opportunity?
We're trying to address this challenge through a partnership model. Our members vary in size, location, and type of work they do – from programme implementers and service providers working to support adolescent girls and child brides in their communities, to organisations that focus on research and advocacy, seeking to bring global attention to this neglected problem. They also work across sectors such as health, education, poverty alleviation, child protection, and humanitarian response, which is testament to the cross-cutting nature of the issue and the range of different approaches taken to address it.
We know that we will not end child marriage if national, regional, and international-level advocacy efforts are not informed by the reality of local and community-level action. We have been finding ways to facilitate knowledge sharing. To date, our members have met in India, South Africa, and Turkey, but it is not always feasible to bring more than 300 NGOs together. That is why we're also exploring online tools, such as webinars, for information-sharing and fostering a sense of community.
8. You have a number of interesting blogs on your work in Afghanistan. Please tell us more about your work to end childhood marriage in a country where violence against women is endemic.
We have a number of members working to address child marriage in Afghanistan. Clearly one of the most difficult obstacles they face is a lack of security, which makes it hard to reach some rural areas where child marriage is common. One of our member organisations in Afghanistan, Aschiana, recently wrote a blog for us on the challenges they face in trying to address child marriage; I highly recommend that you read it: What's it like to try end child marriage in Afghanistan?
In the blog, Aschiana's founder gives a first-hand sense of what it's like to tackle child marriage in the face of significant challenges. But ultimately his message is uplifting: "It can be very difficult to work with families and children in need, when you try to defend their rights, and a lot of people look to you for help, to negotiate in their favour with people in power in different groups. But to me, if I see at least one child succeed in school this year or see happiness in that child, that's what motivates to keep working for the rest of the people."
9. How can we help Girls Not Brides end childhood marriage?
First and foremost, spread the word! Child marriage has long been a taboo issue and was absent from many international development debates. That's changing thanks to the growing vocal and global movement of people determined to see an end to this practice.
We've also partnered with the online platform Catapult, which enables you to connect directly with our members and gives you the chance to support their work. For example, you can donate to one of our member's project in Kenya where they are seeking to empower Maasai girls through education and help them avoid child marriage.
Visit our Take Action page for more ways in which you can make a difference: http://www.girlsnotbrides.org/take-action
10. In your opinion, how can we end violence against women for good?
I think that ultimately we need to change the perception that women and girls are somehow inferior, that they are people over whom others can exercise control, often in violent ways. It will take a long time but together, we are stronger and louder – we will make our voices heard!