Welcome to The Pixel Project's "30 For 30″ Father's Day Campaign 2013! In honour of Father's Day, we created this campaign:
To acknowledge the vital role Dads play in families, cultures and communities worldwide.
To showcase good men from different walks of life who are fabulous positive non-violent male role models.
Through this campaign, we will be publishing a short interview with a different Dad on each day of the month of June.
Our twenty-ninth"30 For 30″ 2013 Dad is Jimmy Brooks from the United States.
__________________________________________________________________________________________
The Dad Bio
Jimmy Brooks has has one son and one daughter and has spent his life in community service. He is retired from Goodwill Industries, is currently a board member at McShin Foundation serving people in recovery and has volunteered and supports Safe Harbor, a domestic violence and sexual assault center in Virginia, USA. He is an active member of the 12-Step Fellowship and mentors young men in recovery. He has an Associates Degree in Horticultutre and continues gardening and landscaping in his retirement.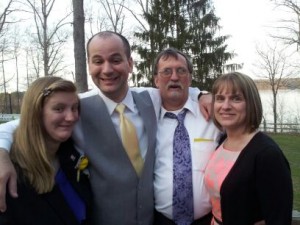 1. What is the best thing about being a dad?
The best thing about being a Dad is many things: watching my children being born, and then watching them grow from infancy to adulthood; feeling all the love I feel for them and receiving their love for me; sharing their joys and comforting their pain. Fatherhood is a journey of discovery everyday.
2. A dad is usually the first male role model in a person's life and fathers do have a significant impact on their sons' attitude towards women and girls. How has your father influenced the way you see and treat women and girls?
My father was not the greatest role model. I vowed to change my role as a father from the negative one I experienced to be a positive one for my children. I am a role model not only for my children, but also for the young men in 12-step programs that I mentor into changing their lives for the better. As a role model, I try to lead by example, treat women with respect and live a life of honesty and non-violence.
3. Communities and activists worldwide are starting to recognise that violence against women is not a "women's issue" but a human rights issue and that men play a role in stopping the violence. How do you think fathers and other male role models can help get young men and boys to take an interest in and step up to help prevent and stop violence against women?
The best way to lead others is to be the person you are leading them to be. Be a person of respect, be a person that respects and honors others, be a man who values women and treats them as equals. That means we have to remove self-interest and self-seeking behaviors and instead use words and actions of respect in all our activities. Another way is to get involved in community work by volunteering in and supporting local programs that promote non-violence, promote programs that mentor our youth.
————————————————————————
Want to honour your Dad in a different way this Father's Day without breaking the bank?
We offer two (2) easy and fabulous options:
Option A: Make a Small Donation
Help The Pixel Project keep our anti-Violence Against Women campaigns and projects sustainable by making a small donation on behalf of your dad to us.
Click here to learn how your donation will be used and to donate: https://www.thepixelproject.net/getting-involved-an-introduction/donate-to-the-pixel-project/

Option B: Dedicate a Song to Him
For just $0.99, you can download our first Music For Pixels song – a cover of 'The Rose' by AHMIR, YouTube's #1 R&B group and upload it onto your Dad's computer's iTunes or digital music player. Not sure about it? Listen before you buy: