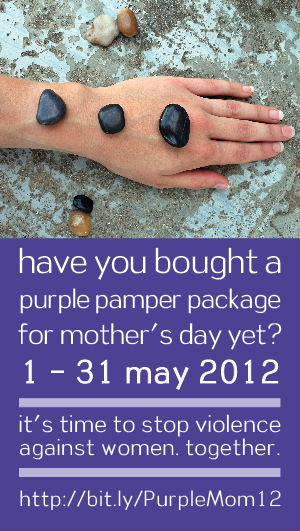 1 MAY 2012: The Pixel Project, in conjunction with Spa Fundraiser, is proud to bring our U.S. supporters and donors the second edition of the "Purple Pamper Package" for Mother's Day. The Purple Pamper Package is a mini face-and-hand spa pampering session worth US$150 for just US$25 per certificate. This special Mother's Day offer runs from 1 May – 31 May 2012.
Each Spa certificate is valid for up to 8 persons so you can gather your mother and all the important women in your life for a pampering session with a touch of luxury! Each certificate includes a customised skin care analysis using Spa Fundraiser's Skin Sensor Technology; A spa facial; Microderm Abrasion; Tight, Firm and Fill (Instant Face Lift) Crème; Tight, Firm and Fill Eye Serum; Exfoliating Hand Treatment; Extreme Repair Hand Therapy Crème and Exfoliating Lip Masque & Nourishing Lip Balm
US$12.50 from each Purple Pamper Package spa certificate goes towards revealing pixels in The Pixel Project's Celebrity Male Role Models Pixel Reveal which aims to raise US$1 million for the USA's National Coalition Against Domestic Violence and Malaysia's Women's Aid Organisation by getting a global audience to donate US$1 per pixel to reveal a million-pixel mystery portrait collage of four celebrity male role models taken by award-winning international photographer, Jillian Edelstein.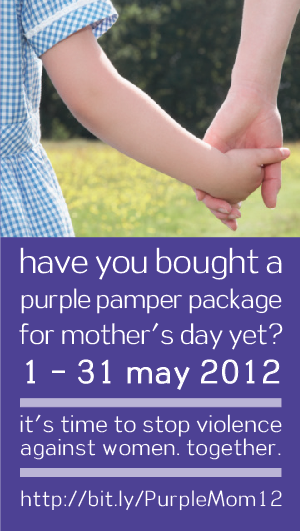 Donors are also encouraged to take up the fantastic option of doubling the charitable impact of the certificates by buying these certificates for the survivors and advocates of 25 women's shelters across the USA who have signed up to receive the Purple Pamper Package.
Regina Yau, Founder and President of The Pixel Project, said: "The Purple Pamper Package pilot programme that took place in the 2011 year-end holiday season was a modest success with over 80 packages sold. We decided to offer the Purple Pamper Package twice a year for Mother's Day and for the Christmas season because some of the shelters who have signed up did not receive enough donated Purple Pamper Packages to cover the number of survivors their serve. We hope that our U.S. supporters will rally this Mother's Day season to not only treat their mothers to these sumptuous spa sessions but also buy the certificates for the mothers who are currently recovering from abuse."
Catherine Tanner Pierce, co-founder of Spa Fundraiser, said: "We are grateful for the opportunity to raise awareness about violence against women. What a perfect way to honour the women in your life by supporting The Pixel Project. Whether you purchase a certificate for your mom, sister or choose to donate your certificate to a women's shelter, you will be making someone's day very special."
—————————————————————————————-
For further information and to buy/sponsor Purple Pamper Packages, visit:
http://www.spafundraiser.com/The-Pixel-Project.html
Media Contact
About The Pixel Project (www.thepixelproject.net)
The Pixel Project is a volunteer-led nonprofit organisation whose mission is to raise awareness, funds and volunteer power for the cause to end violence against women through innovative, powerful viral campaigns across various online and virtual channels including social media. Their first project is to turbo-charge global awareness about VAW using social media while raising US$1 million for Malaysia's Women's Aid Organisation and the U.S.A.'s National Coalition Against Domestic Violence by getting a global audience to collectively unveil a million-pixel mystery collage of Celebrity Male Role Models at US$1 per pixel.
About Spa Fundraiser (www.spafundraiser.com)
Spa Fundraiser's mission statement captures what we hope to accomplish in our small slice of the world. "We provide groups and organizations a way to quickly, seamlessly and efficiently raise money for their activities. We promote wellness, teach people to relax, de-stress and take care of themselves. We provide women with a business opportunity that empowers them, provides them with income and hopefully, improve many other aspects of their lives." Through our unique fundraiser and in-home spa experience we teach people how to relax, renew and rejuvenate their bodies, minds and spirits by incorporating simple pampering, relaxation and stress-reduction activities into their daily lives.